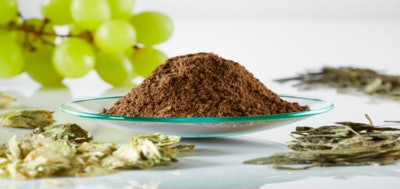 Dr. Eckel's Anta Ox is a pure botanical flavoring feed additive for all animal species and a source of flavonoid molecules. Flavonoids are secondary plant compounds that are known to have numerous beneficial effects in the organism.
Anta Ox is antiinflammatory and antioxidative. Energy that is saved through this effect can be used by the animals for growth, lactation, gestation, etc.
Anta Ox is available as Anta Ox FlavoSyn and Anta Ox E. Anta Ox FlavoSyn is a high potential complex formula from grape, green tea and hops to be used in feed mills with precise dosage systems. Anta Ox E is based on grape pomace and is intended to be used on-farm where larger dosages are easier to administer.