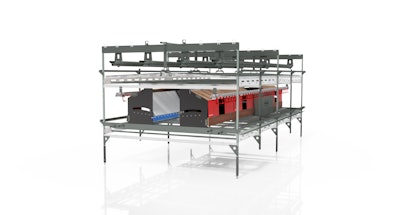 Chore-Time's VIKE Adapt Aviary System is designed for converting existing poultry houses to cage-free egg production, making it suitable for low clearance areas.
It is a two-tier system with perches and feeding systems on the top level for sleeping and good ventilation, water, nests, and a wide platform on the lower level for natural bird activities.
Integrated VALEGO Nests with rack-drive expulsion (RDE) systems promote superior egg production and low labor requirements, and the system is constructed with durable, mold-resistant materials.
The Adapt System can be combined with other VIKE Aviaries, allowing for efficient use of space in poultry houses while ensuring bird welfare and high performance.