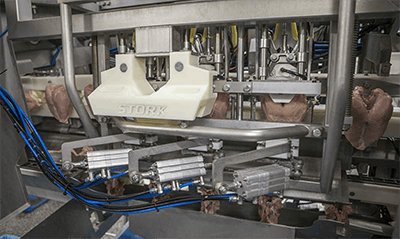 The Marel Stork AMF-i breast cap filleting system uses automatic adaption to breast cap size to combine highest yield, highest capacity and highest product quality. Main benefits include: top fillet quality and optimum yield; intelligent breast cap measuring; automatic adjustment of module settings; a wide range of breast cap weights handled; and a wide range of fillet products possible. Apart from loading, meat removal and trimming, all filleting operations can be done automatically. AMF-i can handle a wide variety of breast caps, even non-calibrated and from different chicken breeds, having specific proportions.
AMF-i is made up of modules installed along a transport mechanism with turning product holders. Each module is responsible for one process step. Breast caps are loaded onto the holders. These convey them through the system's modules and turn them into the correct position for each step. Modules can be switched on or off for different end products.
The intelligent AMF-i system automatically detects changing dimensions of incoming products. Module settings will be adjusted accordingly and adaptive filleting can be achieved without human intervention needed. The Wishbone Remover-i, with its cam controlled knife, and the Halving Module-i, using two adaptively cutting knives, are examples of the self-adjusting modules which follow the directives from the measurement unit.