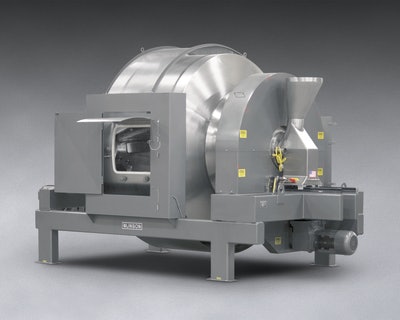 The Munson Machinery Rotary Batch Mixer model 700-TH-140-SS with integral spray line allows uniform distribution of liquid additions to dry bulk solids in trace amounts to large volumes within one to three minutes.
Proprietary mixing flights of the rotating drum tumble, turn, cut and fold material, providing free space between particles, which recombine 288 times per minute. The flow pattern allows liquid additions to be sprayed over a wide expanse of moving material, yielding batch uniformity ≥99.9 percent.
The mixer is intended for dry bulk blending with or without the addition of coatings, flavorings, vitamins or other liquids to food products, or active ingredients in liquid form to any bulk solid chemical or mineral.