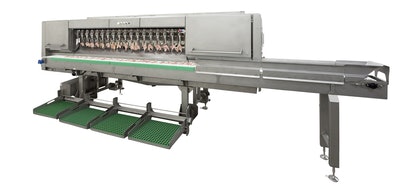 Meyn TDS tight deboning solution M1.0 produces high quality thigh fillets and integrates multiple process steps formaximum yield, quality, and throughput, with a minimum of labor.
The machine separates the thighbone including the kneecap from the fillet while the oyster muscle remains firmly attached. As an option, the machine can be fitted with an integrated deskinning module to produce skinless fillets.
The TDS is available with capacities ranging from 3,600 thighs per hour up to 7,200 thighs per hour.