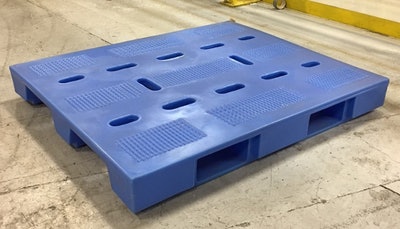 Saeplast DP40FV anti-skid pallet is a 48" x 40" footprint pallet ideal for any closed loop applications. Its anti-skid design works well in moist or wet working environments to minimize the loaded product from shifting and sliding off during loading or moving.
Additionally, the DP40FV will allow customers to use a slip sheet under the load without concerns of the product getting dislodged or becoming askew. It has 12 slots shaped vents on top of the pallet.
The rotationally molded polyethylene DP40FV combines the requirement for a flat top, easy to clean, textured pallet and fulfills customers' needs for an anti-slip surface.
All of the Sæplast DP40 pallet line offer 100 percent virgin food grade polyethylene that conform to all food contact regulation and complies fully for a total food safe option as compared to non-food friendly wooden pallets and brittle injection molded plastic pallets.