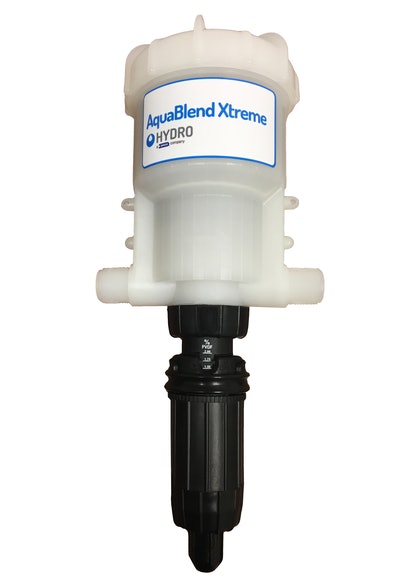 Hydro Systems AquaBlend Xtreme is a water-driven pump (WDP) compatible with organic acids and other highly aggressive chemicals used to treat or medicate water lines. In addition to the traditional advantages of Hydro Systems' AquaBlend injector, the Aquablend Xtreme features enhanced longevity and reliability while remaining cost efficient. It has been designed to accurately medicate water and be compatible with water line cleaning chemicals used in many agricultural applications. AquaBlend Xtreme is available in the two percent and five percent variable models and can handle both liquid chemicals and wettable powders.
Some of the features:
Quick and easy installation
A design ideal for wettable powders and liquid chemicals
Tool-free maintenance
Can be used for: vaccinating, medicating, water treatment with chlorine and peroxides, cleaning water lines with various organic acids and administering nutrients and supplements.