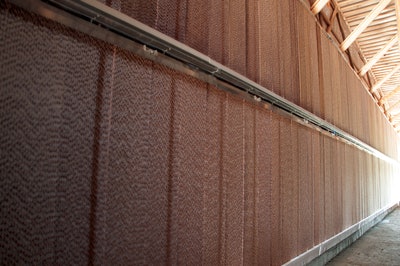 Designed to help maximize cooling performance, the Cumberland Double Stack Komfort Kooler allows more efficient use of vertical wall space on taller buildings and shorter tunnel openings for improved airflow through the building. Producers can also save money on installation with fewer pumps and trough.
Other features:
A trough design that enables unevaporated water to be recirculated back through the system. No tube cutting in the field is required.
A self-priming, centrifugal jet pump and automatic float value that match water supply with system demand.
Easy open top access to the water jets and spray bar to easily perform water pressure checks or system maintenance.
Cooling pads produced using an advanced resin and curing process for lasting durability.