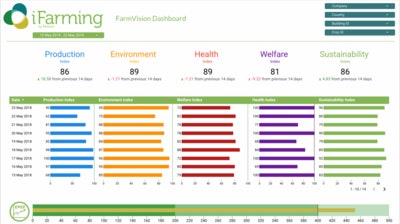 Fancom presents its iFarming automatic sustainability dashboard, which collects data generated by the house computers and uses this data to show how sustainable and animal-friendly the production process is.
Automated processes in a pig or poultry house are a valuable source of information about the animals' environment, feed, water consumption, growth, health and behavior. By monitoring these parameters continually and presenting the data in a clear, easy-to-understand dashboard, the user has access to valuable management information that can be used to implement improvements based on objective measures.
In addition, this information also provides insight into how animals were reared, their levels of welfare and the environmental impact of the system they are reared in. The current practice of periodic audits by inspectors brings a degree of insight. However, by facilitating continual monitoring, we can go further and open up not only meaningful dialogue between producers and consumers, but also provide the transparency needed to prove sustainable production.