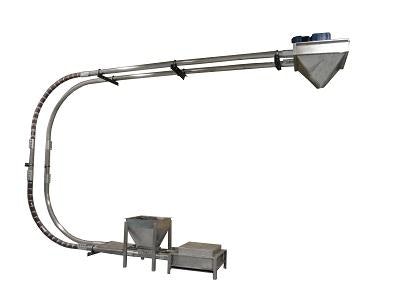 Hygienic, heavy duty, totally enclosed and dust free, the Spiroflow Systems Chainflow tubular chain drag conveyor economically conveys dry powders, granules and particularly fragile materials such as cereals, grains, pet food, animal feed and more. Processors can easily convey or batch ingredients with the crevice-free design.
Chainflow delivers fast and efficient conveying with capacities up to 370 ft3/hour (10.5m3/hour). Processors can convey over long distances with maximum straight line lengths of up to 250 feet (76m) per conveyor and link multiple conveyors for longer distances. The conveyor can typically run empty, be stopped and started under load, and flood or meter fed for operational flexibility.
Processors can achieve intricate layouts with multiple inlets and outlets in complex three plane circuits. Chainflow components are designed for hygienic applications. The conveyor can be cleaned in place and is engineered to run 24 hours a day, seven days a week and 365 days a year.