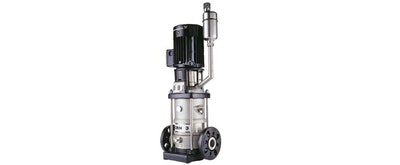 The Grundfos CR vertical, multistage, centrifugal in-line pump family works for water supply, water treatment and almost any industrial solution – including those for high-pressure, hot, dangerous, flammable and aggressive liquids.
The range has been upgraded with a more robust generation of CR pumps (CR 95, CR 125 and CR 155), offering an optimized hydraulic design for world-class energy efficiency. Thanks to a small footprint, the pumps are also easier and less costly to install than comparable pumps.
The CR pumps have been developed using simulation-driven design to perfect every single component and have been field-tested around the world, so you can install and operate the range with total confidence.
The CR is available in millions of different configurations through four modules:
Motors
Shaft seals
Pump modules
Connections.