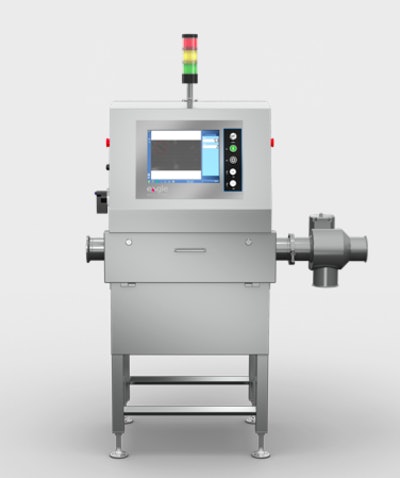 The Eagle Pipeline x-ray inspection system from Eagle Product Inspection is designed to specifically address the unique requirements posed by products flowing into a pipe, as well as helping manufacturers comply with stringent HACCP protocols and food safety requirements.
The Pipeline x-ray system inspects pumped product and rejects contaminants prior to packaging or processing. This inspection leads to fewer wasted packaging materials, creates less rework and greatly reduces product loss caused by the removal of contaminants after packaging. By removing contaminants earlier in the process, it decreases the potential for expensive downtime events caused by contaminants that may damage downstream equipment, such as grinders.
Typical applications include: ground meat (beef, pork, poultry); whole muscle such as chicken breasts; slurries, soups, and sauces; ice cream; baby food; and fruit puree.