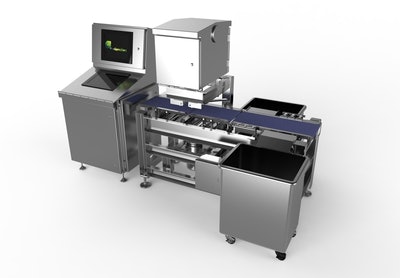 The ProSpection Solutions Pro2300 CWI check weigh/vision system is equipped with high speed, high resolution top, and bottom cameras and high intensity LED lights. It includes a Wipotec load cell that weighs each package individually +/- .5 grams at a rate of up to 150 packages per minute.
The system also measures package height and detects empty packages. It includes a dual air blow off reject station for removal of non-conforming packages based on inspection or weight. Easily integrated with upstream/downstream equipment, it has an onboard database to manage incoming and outgoing data. Both Vision Inspection and Check Weigher controls are housed in a stand-alone control center, with separate HMI's for each system.
The entire system is designed to be IP-65 or above and is in accordance USDA wash down guidelines.
This package inspection/weighing machine has top/bottom package inspection of header/side seals, printed variable data, package height inspection and check weighing in one footprint. It is perfect for a wide variety of foods including pet food, meat, cheese, nuts and convenience foods.