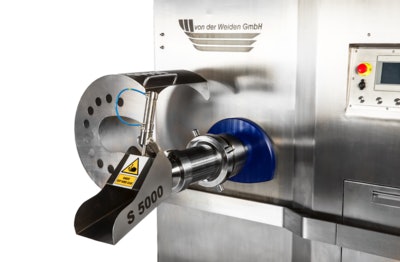 The Eliminator S5000/S2000 from Prospection Solutions is a meat grinder with a special cutting system to eliminate foreign material during the grinding process. The Eliminator removes bone, tendons, ligaments, cartilage, lymph nodes, blood clots, wood, hard and soft plastic, and metals.
The Eliminator can be used to grind any type of meat, including beef, pork, chicken, turkey, lamb, and fish. Whole muscle to final grind in one machine.
This product comes in two models: S2000 (4,000 pounds/hour), and S5000 (10,000 pounds/hour).