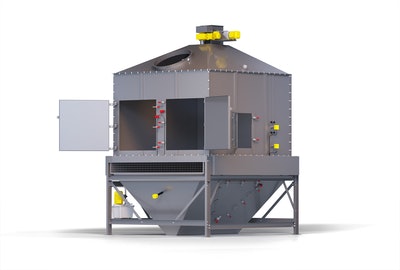 The Counterflow Cooler Plus from Geelen Counterflow features an Evaporation Control to select the ideal air volume and cooling time to maximize ór minimize evaporation in the cooler. Multiple sensors for air and product temperature help to control the process. Even a 0,5 percent improvement in the average moisture content of product can have a very significant effect on the processor's bottom line.
The Topdrive product distributor has its gear motor mounted outside of the cooler, lowering the risk of pollution and overheating.
Its design stainless steel +10 percent Hood has a 10 percent bigger air exhaust opening which reduces airspeed to avoid product being sucked into the air exhaust system.