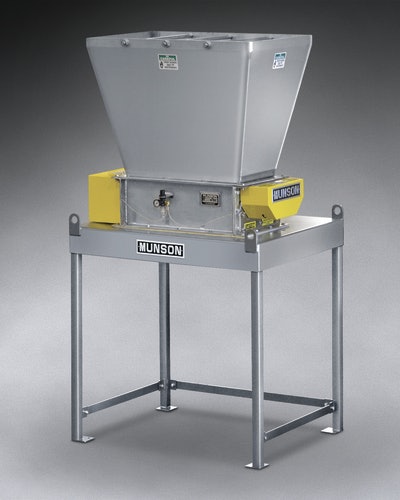 The Kason Corp. model Twin XOB-PS-SS Pneumati-Sifter Ultra High Capacity dual centrifugal sifter de-agglomerates and screens bulk materials in-line with dilute-phase pneumatic conveying systems at ultra-high rates.
Rated up to 14.5 pig (1 barg) positive pressure and 14 in. (356 mm) vacuum, it delivers the capacity of two independent high-output sifters, but in less floor space.
A feed splitter evenly divides the flow of incoming material into two horizontally-oriented cylindrical screening chambers operating in parallel. A shaft within each screening chamber a helical paddle assembly that accelerates the radial movement of particles and soft agglomerates against and through the screen. On-size particles pass through apertures in the screens and discharge through a cone-shaped chute, while oversize particles are ejected via a manual or automatic valve into a sealed, quick-release receptacle.