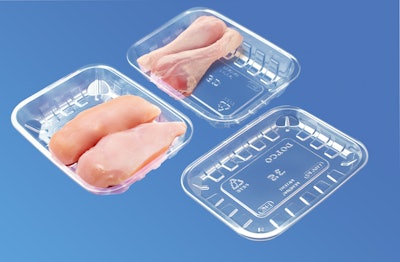 TekniPlex trays are made of 100% PET, and contain up to 50% postindustrial recycled content. They also are 100% recyclable, appealing to consumers' heightened sustainability sentiments. The trays' heightened sustainability and attractive shelf appeal are complemented by premium performance, as they are designed to survive the rigors of the case-ready environment. TekniPlex's PET trays are shatter-resistant even in harsh, cold environments – reducing breakage, product loss, leaks and the risk of safety recalls.
TekniPlex's PET Processor Trays utilize a technique called Hidden Rim Technology, which prevents the overwrap film from tearing and creates freight and shipping efficiencies. Because the trays pack denser, customers can increase shipping volume per truck, reducing the number of truck trips needed. In the poultry test customer example mentioned above, the rim technology also yielded a 30% reduction in the number of worker hours needed to unload trucks.
The PET Processor Trays are available in clear (natural), translucent colors and opaque colors. Clear and translucent trays are accepted into the recycling stream at many material recovery facilities across the country. Additional tray sizes and hues are continuously in development to meet customer needs.