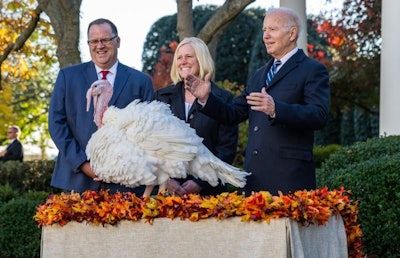 The National Thanksgiving Turkey presentation and pardoning ceremony, I have long contended, should be free of all political rancor and instead focus on the turkeys, the farmers that raised them, and being thankful for the many blessings in your life.
In his first of such ceremonies, held on November 19, President Joe Biden mostly abided by such etiquette. I feel like he at least got a passing grade.
Biden pardoned Peanut Butter, the presidential turkey, and Jelly, the alternate, in keeping with the tradition of pardoning the turkeys, set in place more than 30 years ago by then-President George H.W. Bush.
While the president strayed a little too often into the topic of COVID-19 vaccinations, which to some people is a political issue, he otherwise kept his remarks on the topics that were germane to that particular occasion.
Biden seemed to enjoy himself at the ceremony more than the previous two presidents. He seemed to like interacting with the turkeys more than the other two did. And it was apparent he took the effort to know a little about the families that presented the turkeys, despite one goof that will be mentioned later.
There were moments of humor, as one of the turkeys began to gobble, interrupting Biden's speech. Biden just smiled and said "yes," as if he agreed with what the turkey just said. That kind of comical interaction took place more than once.
Here is a sampling of what Biden had to say about Peanut Butter, Jelly, and the Welp family who raised them: " I also want to thank the farmers who were selected by the National Turkey Federation (NTF) to raise what's called the 'Presidential Flock.' That's a group of 20 or so turkeys vying to make it here today. In other words, the turkey presidential primary.

"And so, I just met Andrea and Brad Welp, third- and fifth-generation farmers from St. Anthony, Indiana. And they're here with their 5-year-old son, Benton, and their 2-year-old daughter, Brogan, who wonders, 'Why do I have to be here, Mommy?' Since July, they've been preparing the flock for this day. And I'm told the turkeys even listen to music to get used to the crowd noise. And they've interacted with children and visitors to get used to the — their visit to Washington."
The president cited a passage from Psalms, and reminded us that Thanksgiving was about unity and being thankful.
"Folks, as I've said before, every American wants the same thing: They want to be able to look the turkey in the eye and tell him everything's going to be okay. And so, folks, it's going to be okay," Biden added.
"In all seriousness, it's important to continue traditions like this to remind us how from darkness there is light and hope and progress. And that's what this year's Thanksgiving, in my view, represents."
While the speech was good, I can't say there weren't a couple of gaffes during Biden's speech. He erroneously referred to NTF Chairman Phil Seger as "Pete," evidently confusing him with musician Pete Seeger. (At least he didn't call him Bob, although musicians don't get much cooler than Bob Seger.)
He also made a generalized statement about turkeys using the company name "Butterball," despite the fact that Peanut Butter and Jelly came from a flock of birds being raised for Farbest Foods.
He also said his favorite lunch was peanut butter and jelly sandwiches. Maybe not the best thing to say in front of turkey producers, but it was all in good fun and I suspect nobody was offended.
All in all, I enjoyed the ceremony. You don't have to be a fan of this president to appreciate what he had to say that day.
I know when I lead my family in the prayer before we eat on Thanksgiving Day, I'll make sure to thank God for the farmers and other workers along the supply chain, and hope you do, too.
Have a safe and happy Thanksgiving!