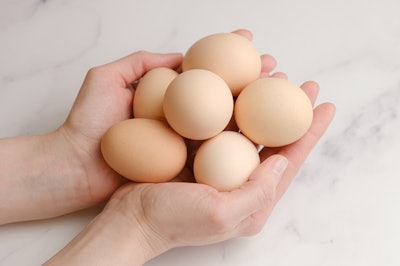 Getty Images/iStockphoto
Using a genome editing technology, researchers at Hiroshima University have developed a shell egg, called ovomucoid (OVM)-knockout eggs, that could be safe for people with egg white allergies.
The research confirmed that the shell eggs are laid without OVM, the protein that causes egg white allergies. However, the food safety profile of the product has a long way to go before it makes its way to retail.
"In this study, we examined the presence or absence of mutant protein expression, vector sequence insertion, and off-target effects in chickens knocked out with OVM by platinum transcription activator-like effector nucleases (TALENs)," stated Ryo Ezaki, Hiroshima University assistant professor.
TALENs are restriction enzymes that recognize specific DNA sequences and can break them. In this research study, TALENs were engineered to target a piece of RNA called exon 1, which codes for specific proteins. This allowed the researchers to detect and eliminate the ovomucoid protein in the egg whites.
"The eggs laid by homozygous OVM-knockout hens showed no evident abnormalities. The albumen contained neither the mature OVM nor the OVM-truncated variant," said Ezaki. "These results indicate the importance of safety evaluations and reveal that the eggs laid by this OVM knockout chicken solve the allergy problem in food and vaccines."
The researchers concluded that OVM-knockout eggs are less allergenic than standard shell eggs and can be safely consumed by patients with egg allergies, if used in heat-processed foods.
Future research will focus on verifying the food safety aspect of the OVM-knockout eggs. According to Ezaki, even small amounts of OVM can cause a reaction in people who are highly allergic to this specific protein.
"The next phase of research will be to evaluate the physical properties and processing suitability of OVM-knockout eggs, and to confirm their efficacy through clinical trials," stated Ezaki. "We will continue to conduct further research toward the practical application of allergy-reduced eggs."
If the research makes it to commercial trials, it will be interesting to see how it is applied and if it works effectively. According to protein and enzyme company Bioseutica, OVM makes up 11% of the egg-white and protects developing chicks from bacterial growth by inhibiting proteases.
While having access to allergen-free eggs would be beneficial to those affected by the allergy, experts at the American College of Allergy, Asthma and Immunology estimate that only 2% of all children are allergic to eggs, and that 70% of those children will outgrow the allergy by age 16.