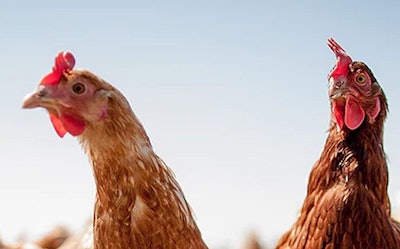 Retailers and other people affiliated with all stages along the poultry supply chain were urged not to engage in conversations about adopting the Better Chicken Commitment, saying it is all part of a plan for animal rights activists to put an end to put an end to animal agriculture.
Jack Hubbard, partner and owner of public affairs firm Berman, spoke on the matter during his presentation, "Factory Fundraisers: How Animal Rights Groups Exploit Animals and Donors," at the recently held Animal Agriculture Alliance Stakeholders Summit in Arlington Virginia.
The Better Chicken Commitment, "actually should be called the Worst Chicken Commitment because it drives up emissions and undermines every other ESG (environmental, social and governance) goal that all of these public companies are adopting," said Hubbard, who prior to his time with Berman was the chief operating officer at American Humane.
But animal rights groups "don't have the same definition of sustainability as yours," even if they present well and say the agendas they are pushing are better for the environment and the animal, he said.
Because of that, Hubbard advised against even having conversations with these activist groups.
"If you have these debates and you invite these people into your operations and you sit down with them, I just want you to know they are using the ESG movement as a Trojan horse, to get seats on boards to get access to CEOs, to run marketing departments, and you all need to understand that you need to be on guard for that," said Hubbard.
"If everybody goes into the sustainability thing saying 'Kum Ba Yah; we're all on the same page,' I'm telling you you're not."
Hubbard said some businesspeople would have the tendency to think that if they just agree to serve a plant-based hamburger on their menu, they will leave them alone. But he said that is a false assumption. Once they convince you on one matter, such as plant-based burgers, then they will start to pressure you to serve only chicken raised in accordance with the Better Chicken Commitment, or serve only pork from farms that do not use gestation stalls.
"When you look at the people attacking pork, and you look at the people attacking chicken and you look at the people attacking pets, it's all the same," he said.
"The minute you raise your hand and invite any of these people to the table, you are making yourself a target for the next campaign. It is a move the goalpost strategy and the end game does not involve a piece of chicken, a piece of bacon or a hamburger on a plate."