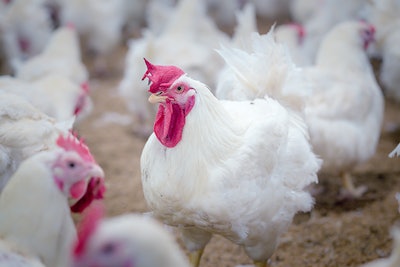 chayakorn76 | BigStock.com
Contaminated poultry breeding flocks are the likely source of the global spread of Salmonella Enteritidis, according to a new study published in the journal Nature Communications.
"Historically, Salmonella Enteritis (SE)-contaminated breeding stocks likely drove the global spread of the pathogen in poultry. As recent as the 2010s, sporadic cases of international transmission via breeding stocks probably still occurred," Xiangyu Deng, an associate professor at the Center for Food Safety at the University of Georgia, said.
Dangers of Salmonella spread
Salmonella is gram-negative anaerobic bacterium that is responsible for approximately 1.35 million illnesses, 26,500 hospitalizations and 420 deaths in the U.S. each year, according to data from the Centers for Disease Control and Prevention (CDC). The bacteria has become increasingly multi-drug resistant, making it more difficult to treat.
Most Salmonella infections in humans are foodborne in origin, however, many animals – including chickens – can harbor the bacteria without becoming sick. Some strains, however, are virulent and can cause mortality in an infected flock.
The 1980s saw simultaneous outbreaks of Salmonella Enteritidis across Europe and North America. More recently, the largest outbreak of Salmonella ever recorded in Europe occurred in 2015-2018 due to contaminated eggs. However, until now, knowing how and why the foodborne pathogen spread across continents remained unknown.
Hypothesis-driven data genome mining
Chicken breeding has consolidated significantly over the last 50-60 years through mergers and acquisitions. This has resulted in highly centralized sourcing and massive international trade of breeding stock.
Because of this, this research began with the hypothesis that Salmonella Enteritidis-infected breeding flocks may explain the unexplained spread of the foodborne illness.
Next, the research team used hypothesis-driven data mining to analyze more than 30,000 genomes of Salmonella Enteritidis to see if they could prove their theory.
"We first discovered genetically near-identical isolates from domestically raised poultry in Suriname and the U.S. whose likely only overlap in poultry production is the sourcing of breeding stocks," Deng explained.
Comparisons of the genomic data with import and export records of live poultry between countries confirmed the centralized origins theory.
"Our findings do not make breeding stocks today any riskier," Deng concluded. "Our genomic data also suggest that an SE lineage circulating in the U.S. and Europe has turned around and declined since the late 1990s. However, even rare Salmonella infections at the very top of the poultry supply chain can potentially be amplified and dispersed over long distances by the integrated and globalized supply chain."
Like what you just read? Sign up now for free to receive the Poultry Future Newsletter