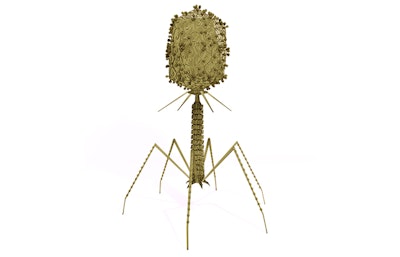 Getty Images/iStockphoto
An antibacterial microbead spray that harnesses the power of bacteriophages could help improve food safety in poultry production, processing and packaging.
"The good thing about the spray is that it could be used at every stage. It could be used on the farm," said Zeinab Hosseinidoust, who holds the Canada Research Chair in Bacteriophage Bioengineering at McMaster University. "It could be used in processing facilities to prevent biofilms."
The technology, published in Nature Communications, is effective at eliminating E. coli in lettuce and meat. Preliminary findings suggest that the microbead spray could also target foodborne pathogens such as Salmonella and Listeria.
Salmonella control in poultry is under intense scrutiny right now. In August, the U.S. Department of Agriculture's (USDA) Food Safety and Inspection Service (FSIS) classified Salmonella as an adulterant in certain types of breaded and stuffed raw chicken products. This was followed by the unveiling of a proposed framework to improve Salmonella control in poultry products in October.
Phages against poultry pathogens
The food decontamination spray links bacteriophages together into tiny microbeads that measure about 20 microns (equal to about one-50th of a millimeter). In addition, it has no impact on the taste, texture and smell of food.
"We wanted a delivery/preservation vehicle for phages. There are a lot of technical challenges associated with creating these very tiny beads which are smaller than the average size of a human cell and keeping the phage alive," Hosseinidoust explained.
Also known as phage technology, bacteriophages harness viruses to target and destroy specific bacterial cells on a surface or in an organism. The viruses are harmless to people, only activating when a specific bacterium is present.
"The advantage of using bacteriophages in every step of the food chain is that they're very specific. Even though they're potent antimicrobials and very strong in their antimicrobial action at the same time, they're considered mild and microbiome-friendly," she added.
The Food and Drug Administration (FDA) has already approved the use of phages in food.