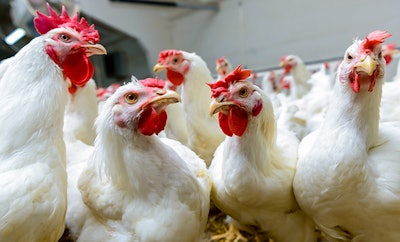 A recently completed research study revealed significant differences in the gut health and immune response between slow-growing and fast-growing broilers challenged with Salmonella Typhimurium.
"Poultry health not one size fits all. While the results of our study were not consistent at each age, breed was the most consistent factor," Dr. Shawna Weimer, assistant professor at the Department of Animal and Avian Sciences at the University of Maryland, and Timothy Johnson, assistant professor of Animal Sciences at Purdue University, explained.
The research received funding from the U.S. Poultry & Egg Association.
What differences were seen
The researchers challenged broilers living in a BSL2 isolator with an orally gavaged culture of Salmonella Typhimurium. Many birds carrying Salmonella do not show clinical signs of illness, however subclinical physiological and behavior indicators can still be present.
The fast-growing broilers displayed impaired intestinal morphology at 24 days, however they were also heavier, with greater jejunum gut integrity and a greater concentration of immunoglobins IgA and IgG in blood plasma.
"Surprisingly, the cecal microbial communities did not differ between the two breeds. This may be important because the ileum is more important to nutrient absorption than the cecum and the microbial community may impact nutrient absorption. It is unclear the impact of the microbial community on the growth rate of the animal in different genetic lines, but in these two lines, the microbial community of the ileum diverged between the bird lines," Weimer and Johnson said.
In addition, these birds were less exploratory, social and aggressive than their slower-growing counterparts.
Both groups sat more and stood less than the control group 16- and 20-days post-challenge. These researchers believe this is likely due to stress induced by the oral gavage.
"Something our study, and many of the other studies in this area, cannot not answer was whether our results would have remained when the birds were market age. Taking this study out past day 24 would have answered this question. We will take birds out to market age in our future challenge studies," the researchers concluded.
"We hope that the results from this project encourages the research community to do the same because knowing the phenotypes of different broiler breeds may help geneticists, nutritionists and growers make informed technical and management decisions."
Like what you just read? Sign up now for free to receive the Poultry Future Newsletter.