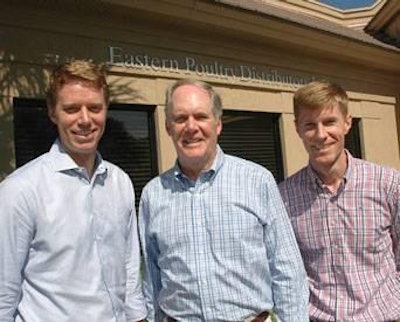 It's difficult to put a precise label on Eastern Poultry and Food Distributors, the Ponte Vedra Beach, Fla.-based wholesaler of poultry, beef, seafood and pork that will generate about $260 million in revenue in 2014.
Sixty-year-old Eastern Poultry has a storied past in trading commodity chicken but continually redefines its business and how value is created for customers.
Affiliate business ventures illustrate why labels, like wholesaler or trader, don't neatly fit Eastern Poultry
Paradise Kitchens, established in 2007, partners with further processors to develop and pack value-added chicken to match customer needs.
Truck brokerage subsidiary business serves both trading company and industry clients
Seafood Sales & Service, a distributor of frozen seafood in greater Jacksonville, Fla., was acquired (majority interest) in January of 2014.
"Eastern Poultry is in the business of buying and selling a commodity product, but the opportunity to differentiate ourselves is in the level of service we're able to provide and by adding value to the product," said Ted Rueger, president of Eastern Poultry & Food Distributors.
Customers include processing and further processing plants, foodservice institutions, retailers and restaurants, schools, universities and hospitals, and nonprofit organizations.
Paradise Kitchens adds value in cross-sector niche
Its partnership with Paradise Kitchens is characteristic of Eastern Poultry's business positioning – using its knowledge across two or more industry sectors (processing/further processing/foodservice) to add value in a niche market.
Though Paradise Kitchens does not own further-processing facilities, it adds value in a niche market by developing and sourcing further-processed chicken to match its customers' needs.
"The niche Paradise Kitchens fills is in understanding our customers' needs and then leveraging our relationships to find the raw material and the further processor to best match those needs," Rueger said.
"All of our processing partners do something really well. They all have their bread and butter. On the other hand, it's very difficult to do everything well. So we know what our partners do really well, and ultimately that benefits our customers," he said.
Paradise Kitchens is managed by Eastern Poultry Vice President Thad Eshelman, who is also a partner in the affiliate company.
Acquisition of Seafood Sales and Service
More recently, Eastern Poultry entered the seafood distribution business by acquiring a majority interest in Seafood Sales and Service Inc., as of January 17. The company is a distributor of frozen seafood in greater Jacksonville and markets its own "Nature's Best" line of frozen seafood in retail stores throughout the Southeast.
Eastern Poultry's opportunity there is to provide capital and management for growth and add poultry to the product distribution mix.
"The plan is to help Seafood Sales continue to grow by expanding the distribution service radius by adding trucks and sales people. We also think we can help them further penetrate their existing customers by expending their product offering to include poultry," Rueger said.
Eastern Poultry Chief Financial Officer Grant Conway, added, "There is natural diversification in Eastern Poultry being a trader of poultry, beef, pork, seafood and eggs, but the acquisition of Seafood Sales and Service is a broader diversification. At the same time, Eastern Poultry will be able to leverage its balance sheet, business systems and management depth to continue to grow Seafood Sales and Service."
Minority Partners in the newly formed subsidiary company include Seafood Sales co-founder, David Bielski and Palmetto Capital, a private equity group based in Ponte Vedra Beach.
Entrepreneurship in Eastern Poultry's DNA
Ted, who represents the third generation of Rueger's involved in the business, provided an assessment of the main architect of the company's success for 30 years: "My father is an entrepreneur at heart. He's always willing to look at an opportunity, and he brings a different perspective to the way he looks at the opportunities we bring to him in the business."
CEO Tom Rueger, in fact, made his mark early as an entrepreneur. His father, John C. Rueger, had established Eastern Poultry as a poultry brokerage business in 1954, buying whole broilers from processors on the Eastern Shore and selling them in the Philadelphia and New York markets. Tom, however, saw an opportunity to buy whole broilers from processors on the Eastern Shore and further process them for sale in the Philadelphia and New York City markets.
He started Brandywine Foods with partner Paul Haldeman in 1981 by building a further processing plant in Cochranville, Pa. The business began with 12 employees deboning and sizing whole broilers and fronts, including packing further processed poultry for Sysco Foods under its label.
Pioneer in further processing
Not many chicken processors were cutting and deboning breasts at that time, and as business grew, Brandywine Foods was one of the first companies to marinate chicken wings.
By 1983 the company was producing portion-controlled chicken breasts, a niche in which there was even less competition.
Chicken wings were becoming popular as Brandywine Foods began producing them. "We hit a sweet spot in what we were producing and marketing," Tom recalls. "Upscale fast-food restaurants, which helped popularize these items, were expanding rapidly in the late 1980s."
This led to the opening of a second Brandywine further-processing plant in Cleveland, Miss., in 1990. It was one of less than a handful of large-scale plants in the nation that deboned, breaded and cooked sized, further-processed, chicken products.
Sales at Brandywine Foods grew rapidly and reached just under $100 million in 1991.
The success caught the attention of Tyson Foods, which purchased Brandywine Foods in December of 1991.
Exit from further processing business in 1991
Why sell Brandywine Foods when it was so successful?
"Eastern Poultry, which had multiple offices, was growing at the time, and Brandywine Foods had plants in Pennsylvania and Mississippi. I was in my early 40s, and I had young children and wanted to be at home more," Tom said.
What's more, the need for Brandywine Foods to own its source of supply of poultry was only increasing as the business grew.
"Having watched the boom-and-bust cycle of that era's poultry production business, I did not envision getting into that business," he said.
Poultry pricing less predictable today
"Poultry pricing has become less predictable in the past five years," Ted said. "As a result, we're not taking on as much risk as we once did in buying and holding inventory.
"We're also working with customers to help them hedge their buying with a mix of market-based and flat pricing strategies. Where possible, we are sourcing product for customers on a quarterly or annual basis."
Program buying by customers is a bigger part of Eastern Poultry's volume than in the past, but day-to-day spot buying still makes up about half of the volume.
The company will at times speculate in purchases of inventory when markets present opportunities. It may also make purchases in partnership with customers when prices are lower.
Secret to Eastern Poultry's success
Diversification and maintaining a strong balance sheet help the company in both favorable and tough economic periods for the poultry industry.
"Last year was a very profitable year for our company as the economy improved. So far in 2014, profitability has been very strong, although we've seen a rise in trucking expenses," Tom said.
"Over 90 percent of the poultry we buy is FOB shipping point, and it is difficult for us to pass this expense on to our customers. At the same time, where in the past it might have cost us $2,000 to ship to a certain customer, it might now cost us in the range of $2,200 to $2,500. Those cost increases are coming off our bottom line," he explained.
When tough economic periods come, they present both challenges and opportunities, according to Ted.
"There's always a natural consolidation going on, and it moves in cycles and presents opportunities for a period of time," he said. "It's an opportunity for smaller players in the market to find a niche and fill a need."
The future of poultry trading
"What's the future of poultry trading?" Tom said. "Do I see it any different than my father saw it in 1981 when he told me to go into something else? I do because I haven't told my sons do something else.
"Is it going to be tough? Yes, business won't ever be a cakewalk. But it's about having good people around you and how do you attract those [people]. That's what I've always found to be the hardest thing in any business."
What makes a good trader? "Developing relationships," Tom said. "It's understanding markets and developing relationships between suppliers and customers. It's having both sides believe in you and that what you are doing is best for both sides. We've been extremely fortunate at Eastern to have some incredibly talented people. We certainly wouldn't be where we are today without them. Eight of our senior traders have been with us for over 20 years, and they're like family. That's unique in this industry. So we need to continue to attract great people that fit our culture and keep them.
"For Eastern Poultry to continue to grow means listening to our customers and figuring out how to provide value to them," Ted said.