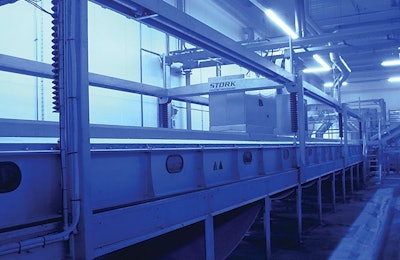 Controlled atmosphere stunning could see a rapid ascent in the next decade.
As part of the quarterly WATT/Rennier Poultry Confidence Index survey conducted at the end of 2017, respondents in the industry were polled on how they feel about the future of gas stunning in broiler processing. The question was: "By the year 2024, what percentage of the U.S. industry's total broiler slaughter will be via atmosphere stunning (CAS)?"
Respondents were asked to pick between six choices representing which percentage of the industry will use CAS. Most respondents said between 10 to 49 percent of the industry will be using the method by 2024.
Here's the full breakdown of responses:
0 percent: 2.2 percent
1 to 9 percent: 4.4 percent
10 to 24 percent: 30 percent
25 to 49 percent: 32.2 percent
50 to 75 percent: 18.9 percent
More than 75 percent: 12.2 percent
Controlled atmosphere stunning as a welfare requirement
A key motivator for the transition to CAS is, and will continue to be, third-party animal welfare systems poultry integrators, foodservice companies, restaurants and grocers are signing onto. For this question, the year 2024 was picked because of its inclusion as a deadline in the Global Animal Partnership's welfare plan.
By 2024, according to the Austin, Texas, nonprofit organization's standards, the broiler industry will use breeds scientifically proven to have markedly improved welfare outcomes and provide chickens with more space, improved environments, including lighting, litter and enrichments.
GAP does not require the use of controlled atmosphere stunning. However, a July 2017 broiler welfare commitment – "Joint Animal Protection Organization Statement on Broiler Chicken Welfare Issues" – co-signed by the Humane Society of the United States, Compassion in World Farming and other activist groups does ask for food companies to require its chicken suppliers to use CAS by 2024.
What if CAS isn't right for you?
If CAS is being pushed on the industry by its customers (who are actually getting it pushed on them by activists) then the right tactic for those companies that don't want to make the change may be to go directly to the buyers. The customer is always right, but if the buyers are told what happens in stunning and slaughter and why it happens – and that a big investment could translate to higher prices for them – maybe they will think twice before signing onto the next pledge.