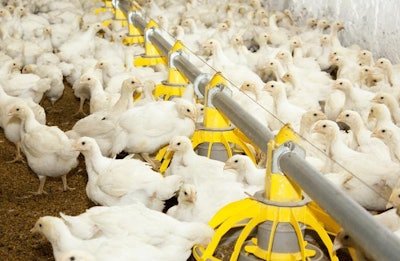 Broiler weights are steadily increasing. Signs point toward a continued rise in future weights.
Increasing slaughter weights
U.S. broiler slaughter weights are steadily increasing. The average broiler liveweight at slaughter last year was 6.32 pounds, an increase of more than 25% since 2000. That's also 60% heavier than in 1980.
Larger birds are typically preferred for deboning purposes. Growing demand for cut-up parts and pieces is the primary driver behind this trend. Broiler weights remained on an upward trajectory compared to historical levels during the first half of 2020. However, this recent surge had more to do with marketing disruptions related to the pandemic.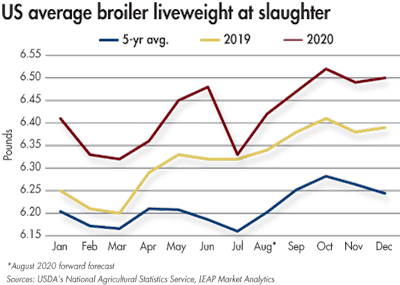 Broiler slaughter weights in the U.S. hit a record 6.48 pounds in June. Weights pulled back sharply in July but are expected to rebound and climb even higher this fall.
Slaughter backlog
As poultry integrators were forced to confront COVID-19's threat to plant workers and downstream shocks to the foodservice industry, more than 10% of total slaughter and processing capacity went offline for several weeks this spring.
The resulting backlog in the supply chain helped push the average slaughter weight to a record 6.48 lbs in June 2020. Some capacity returned while the flow of birds also ebbed in response to adjustments set in motion previously at the hatchery, integrators were able to get current quickly.
Coupled with the arrival of hot weather, this pushed the average slaughter weight sharply lower in July 2020 to 6.33 lbs, nearly the same weight as a year earlier. The setback proved short-lived, though, as weekly data from the U.S. Department of Agriculture's Agricultural Marketing Service USDA-AMS indicates bird weights are climbing sharply again.
Demand shifts favoring increasing weights
On a short-term basis, seasonal trends suggest bird weights are likely to keep rising through at least October 2020 before plateauing again. LEAP Market Analytics forecasts a peak this fall above 6.5 lbs.
Looking ahead to 2021 and beyond, there is a compelling case for weights to remain firmly on an upward trajectory.
The COVID pandemic is proving to be an extinction-level event for a sizeable share of the foodservice industry.
At least 20% of all restaurants in the U.S. face permanent closure. Even if you conservatively estimate the closure rate winds up being closer to 10%, it would still represent a remarkable shift in how chicken products are marketed. Movement through retail grocery channels would get a significant boost at the expense of consumption away from home.
This favors sales of cut-up parts and deboned products from heavier-sized broilers, and integrators would be incentivized to accommodate this trend. It is not far-fetched to think we could be within two or three years of seeing an industry-wide average broiler slaughter weight in the 7-pound area if this pattern holds.