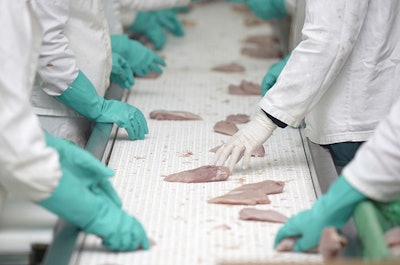 Hyperspectral imaging could provide processors with information about the chemical composition of poultry products, making it easier to identify foreign material contamination or meat quality defects.
What is hyperspectral imaging?
The technology uses continuous spectral bands to collect and process information from across the electromagnetic spectrum.
Basically, hyperspectral imaging is a form of spectroscopy that allows you to see different wavelengths in the light spectrum. This information can be used to reveal the chemical composition of an object, like a piece of poultry, providing information on composition, freshness, tenderness and even identify meat quality issues like woody breast.
"We now have a new technology that allows you to, at one time in the process of making food, actually measure what it is that you've made," explained Olga Pawluczyk, CEO of P&P Optica.
The technology is currently in use to analyze the chemical composition of chicken parts, but could one day be used to analyze the whole bird.
Augmenting human labor
Hyperspectral imaging is better at detecting more kinds of foreign material contamination than x-rays and can be used in place of human inspectors on the line. Poultry processing facilities have faced increased workforce challenges in the past year due to the COVID-19 global pandemic.
"Humans are not great at paying attention for eight hours a day looking for foreign objects. They're very good at solving problems that show up," Pawluczyk said. "And so, when you look at imaging technologies, they are designed to solve a problem that humans are not very good at in the first place and, oftentimes, augment human labor so that they see things that humans just can't."
How it works
The technology uses highly specialized cameras that capture an image of each object as it moves down the line. Each pixel in the image displays hundreds of wavelengths along the light spectrum.
Artificial intelligence and machine vision analyze the images – which look like squiggles to the naked eye – to display the precise information about the chemical composition of the poultry product.
"We've enjoyed every single aspect of learning what it takes to transform farm material and turn it into delicious food that we eat every day and just how fascinating the industry is and how fascinating the pressures on that are and what the needs are going forward," Pawluczyk concluded.
Like what you just read? Sign up now for free to receive the Poultry Future Newsletter.