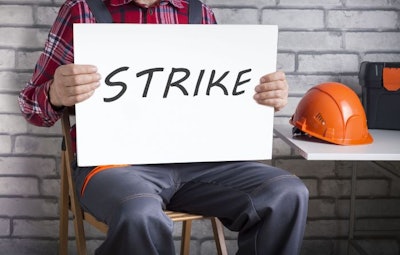 A union worker strike at the Exceldor poultry processing plant in St-Anselme, Quebec, has resulted in the euthanizing of 1 million chickens.
According to a report from Global News, the strike began on May 23 and remains to be resolved.
Jordan Ouellet, spokesman for Exceldor, told the news outlet that the company had tried to send as many chickens that were intended for slaughter at the St-Anselme plant to other plants in Quebec and Ontario, but added: "The problem is that at one point, after 35 days, when chickens reach a certain weight, they are ready to be transformed. But beyond that, they continue to grow and infrastructures are not made for those sizes."
The situation has caught the attention of Quebec Premier François Legault, who recently addressed his concerns on his Facebook page.
Legault posted: "We've been euthanizing thousands of chickens every day for almost a month rather than taking them to the slaughterhouse due to the strike at Exceldor's. This is about 13 % of Quebec's chicken production that we throw in the trash every week. There's a word for it. This is waste. And it needs to stop.
"The situation is having a negative effect not only on our producers but also on our restaurant owners and traders trying to meet rising demand. Seems to me they've had her hard enough like this for a year and a half.
"Understand me right. Workers have the right to strike and employers have the right to lockout. But we shouldn't be allowed to waste huge amounts of food this stupidly. This is indecent. In a society like ours, a situation like this cannot be tolerated."
Legault added that an arbitrator can be appointed to resolve the conflict between the company and union. He stated that Exceldor has agreed to work with the arbitrator.
However, a report from CTV News stated that as of the morning of June 21, little progress has been made in reaching an agreement between the two parties.
Exceldor, according to the WATTPoultry.com Top Companies Database, is a 260-member cooperative that processes about 1.5 million chickens and turkeys per week.