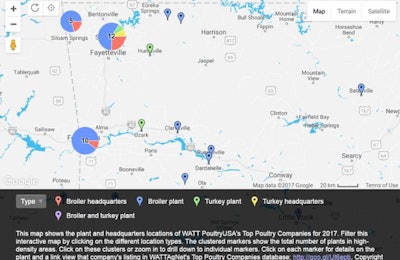 WATT PoultryUSA has published a list of locations of U.S. broiler and turkey plants in its 2017 Top Poultry Companies Survey in an interactive map and a downloadable spreadsheet file.
The interactive map can be viewed at www.WATTAgNet.com/products/28 and shows the location of more than 270 top broiler and turkey company plants and company headquarters. Clicking on any location exposes a link to the full company profile in the Top Poultry Companies database on WATTAgNet.com.
A downloadable spreadsheet contains the full list of more than 270 top broiler and turkey company plant and headquarters locations shown on this interactive map, plus more. The spreadsheet lists the city and state of the poultry plant, details on the plant's production categories, and contact name and phone number for the plant. The map is free to view, and the spreadsheet can be downloaded for $49.