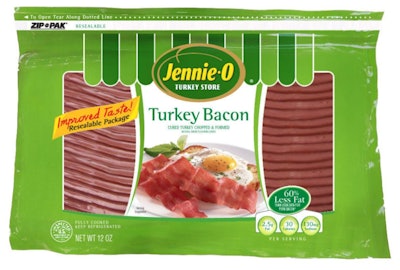 Jennie-O Turkey Store
As Hormel Foods subsidiary Jennie-O Turkey Store continues to replenish its turkey supply after losing many of its flocks to highly pathogenic avian influenza (HPAI) in 2022, Hormel CEO Jim Snee said, "it's great to have turkey back."
Hormel Foods hosted an earnings call on June 1, where the company announced its financial results for the second quarter of fiscal year 2023. Snee, along with Jacinth Smiley, chief financial officer, and Danna Brady, executive vice president, retail, spoke during the call.
Snee said that Jennie-O volumes were down about 30% during the second half of the 2022 fiscal year as a result of HPAI infections and depopulations, and that really hurt the company's ability to market various Jennie-O products.
But with the HPAI outbreak much less intense than it was in 2022, that volume is bouncing back. And company officials are optimistic that it won't reach that same level of intensity anytime soon.
"The overall impact of HPAI on the domestic poultry supply chain (during the second quarter of fiscal year 2023) was minimal. The risk associated with the return of the virus now appears to be low heading into the summer months," said Smiley.
Value-added turkey products bouncing back
The reduced supply of turkeys especially hurt Jennie-O's supply of value-added products, Snee said, and even though those product lines are being replenished, it will take some work to get customers to resume their purchases of those products, because "you don't just flip a switch after a year of not having turkey."
"We just haven't had the volume to sell, and so our ability to be able to now have the value-added products on a regular basis, whether it's the lean ground turkey in retail, or having a full product offering on the foodservice side of the business, that's really a differentiator. The bottom line to all of this is that it is great to have turkey back," said Snee. "Fundamentally, in our portfolio, turkey is a very, very important part of what we want to get done."
And Brady said the sales and marketing teams are actively working to sell turkey products, with a lot of promotional activity in motion for the back half of the year.
Turkey's impact on Hormel earnings
Prior to the 2023 fiscal year, which began on October 31, 2022, Jennie-O Turkey Store's financial results were easier to track, because it was reported as its own business segment within Hormel Foods.
However, with the implementation of the GoFWD (pronounced "go forward") Jennie-O has been absorbed into all three of Hormel's current business segments: Retail, Foodservice and International. And all three of those segments saw a decline in volume, with Retail volumes down 7%, Foodservice volumes down 1% and International volumes down 4%.
"A lot of that responsibility was on Jennie-O," Snee said.
All three segments were affected by a reduced supply to sell turkey products because of the availability. And Snee said the International segment was additionally hampered by HPAI because of avian influenza-related trade restrictions.
However, Snee added, "We are already starting to see some markets reopen, which will allow them to move additional volume."