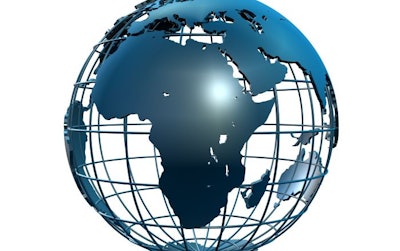 Following a prolonged absence, highly pathogenic avian influenza (HPAI) has returned to afflict poultry in the West African states of Benin and Cote d'Ivoire. There have also been further cases in birds in Ghana, Nigeria, and South Africa.
For the first time since 2008, the H5N1 HPAI virus has been detected in the Republic of Benin.
At the end of July, almost all of the around 6,660 poultry died in a village in the southeastern department of Ouémé, according to the official report to the World Organisation for Animal Health (OIE). The village, Tohouè, is located within five kilometers of the border with Nigeria.
Since the first outbreak there at the end of 2020, outbreaks linked to the same virus family have been officially registered in 12 states of Nigeria. The official report from Benin implied that its neighbor was the source of the infection in its territory.
Just last week, Reuters covered an announcement from Benin's agriculture ministry that the H5N1 HPAI virus had been detected in two districts near to the capital city, Porto-Novo, which is located in Ouémé.
Shortly after the outbreak was confirmed, Benin Web TV reported that Benin had become the latest to be added to a growing list of countries whose poultry imports had been banned by its neighbor to the north, Burkina Faso. An official statement from that country called for greater epidemiological surveillance and border controls. Burkina Faso has already halted poultry trade from Togo and Cote d'Ivoire (Ivory Coast).
Unofficial report of a new outbreak in Nigeria
HPAI has been blamed for the deaths of around 160,000 poultry in the south of Nigeria, reports Chinese news agency, Xinhua. Mortalities began in June in Ughelli town, and have now been reported in six districts of Delta state.
According to information supplied by the national authorities to the OIE, 89 outbreaks of HPAI linked to the H5N1 virus have occurred in Nigeria since December of 2020. These directly involved around 487,000 poultry in 12 states. No new outbreaks have been confirmed for two months.
Update on avian flu situation in Togo, Ghana
Moving in a westerly direction from Benin across West Africa, HPAI has already been reported in Togolese Republic (Togo) and Ghana in recent months.
Based on official reports to the OIE, there have been no further cases in Togo. Since June, the number of confirmed outbreaks there remains three — all in farms in the same southern region — directly impacting around 3,600 poultry.
Last week, the mortality of more than 6,000 poultry in southern Ghana was blamed on HPAI. Modern Ghana reported that the bird died in Tema West, a municipality that is part of Greater Accra, the capital city region. A further 4,500 birds from the eight farms affected were destroyed.
The first cases in Ghana were confirmed in early July, following a three-year hiatus. Directly affecting around 9,600 birds, six outbreaks linked to the H5N1 HPAI virus variant have been officially registered with the OIE.
As well as Greater Accra and Central region, local media have reported cases in poultry in Ashanti and Volta.
Village outbreak recorded in Ivory Coast
Earlier this month, authorities in Ivory Coast reported to the OIE the country's first detection of the H5N1 HPAI virus since October of 2016.
Affected have been a total of more than 76,700 poultry in Comoé, a southeastern district that shares a border with Ghana.
More than 43,400 of the birds died in the village of Mondoukou. Overall mortality rate was around 56%. However, this varied by poultry type from less than 8% for the turkeys to 99% in the guinea fowl. Death rates for broilers, laying hens, ducks, and quails were intermediate.
Of the 39 farms identified in the village, three were sampled and tested positive for the H5N1 virus variant, according to the OIE report. With similar symptoms at all farms, it was assumed all farms were infected with the same virus.
The latest report from the authorities states that more than 243,000 birds have been killed, and 192,000 hatching eggs have been destroyed to prevent further spread of the infection.
South Africa registers more avian flu cases
Since mid-August, South Africa's veterinary authority has registered a further six H5N1 HPAI outbreaks in commercial flocks with the OIE. Five of these were farms — two each in KwaZulu Natal and Gauteng, and one in Western Cape. The sixth location was a backyard bird in Eastern Cape. Directly affected by these outbreaks was a total of 226,600 birds. At each location, presence of the H5N1 virus variant was confirmed.
There have been 52 confirmed outbreaks linked to this virus in the country since March of 2021, involving more than three million birds.
Over the same period, South Africa has been monitoring the same virus in wild birds and among non-commercial flocks. Since mid-May, samples of wild bird droppings taken at several locations in Gauteng province have tested positive for the H5N1 HPAI variant.
Since August of last year, the number of South African commercial ostrich flocks testing positive for an H5 low-pathogenic avian influenza (LPAI) virus has risen to three. The most recent outbreak was in early July, when nine of the 1,648 birds tested positive for this virus in the Eden district of Western Cape. Three of the ostriches died.
These are the first mortalities reported. A total of nine birds have tested positive for this virus out of almost 3,900 — all at commercial ostrich farms in the Western Cape.
In July and August of 2020, 94 South African poultry out of around 4,500 tested positive for an LPAI virus of the H7 family. According to the latest report to the OIE, no further cases have been identified since that time.
View our continuing coverage of the global avian influenza situation.