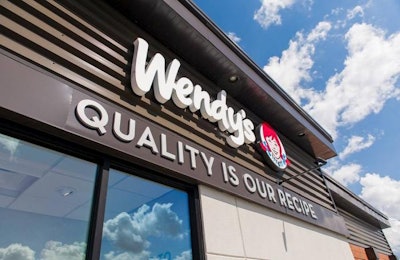 The Wendy's Company will transition to 100 percent cage-free eggs in its U.S. and Canadian locations by 2020, the company announced on January 4.
The announcement, which will involve more than 400 Wendy's restaurants that serve breakfast, represents the next step in Wendy's overarching animal welfare program.
"Animal welfare is a core part of our company's role as a responsible corporate citizen," said Liliana Esposito, Wendy's chief communications officer. "We're proud of our commitment to move to 100 percent cage-free eggs for our breakfast items and will continue to incorporate evolving best practices in the areas of animal handling and welfare into our supply chain requirements."
Since the late 1990s, the company has worked with animal welfare experts to audit its suppliers' animal handling practices. In 2001, the company established its Animal Welfare Council and adopted a comprehensive animal welfare program covering all meat suppliers.
The company in November also committed to eliminating the use of gestation stalls from its pork supply chain by 2022 and continues to make good progress against that goal.
Wendy's became the first major company to announce a shift to cage-free eggs in 2016, following a trend of numerous restaurants and other companies pledging a move to cage-free eggs in 2015.