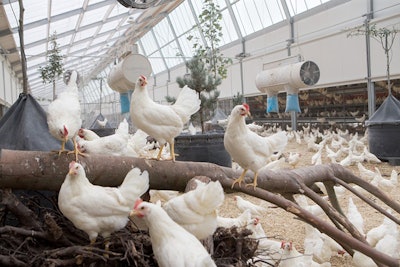 Dutch egg company, Kipster, plans to eliminate male chick culling at its U.S. layer farm by raising the roosters as an alternative meat source.
"We decided to just raise them and try to give them a good life until they become meat for people," Sandra Vijn, chief farmer officer, Kipster USA. "One of our philosophies is to maximize that resources that are brought forward by the farm to feed people. We have limited resources on this planet and don't have a lot of room to expand in feed production so we decided to raise the roosters, give them a good life and then also use them for human consumption."
Currently, a chick's sex can only be identified after hatching. Male chicks are of little use to the egg industry and are typically considered too lean to eat by consumers, although some research suggests that specific diets could help male layer chicks reach an acceptable slaughter weight for meat production.
Approximately 6-7 billion male layer chicks are culled each year, an animal welfare and economic concern. Producers spend more than $70 million in labor and energy to incubate and sex these eggs and the value of wasted eggs in the U.S. is more than $440 million annually.
Kipster will open its first U.S. layer farm and visitor center in Indiana in January 2023. The egg producer focuses on better animal welfare, tackling food waste and carbon neutral eggs, according to its website.
The company plans to make its meat birds available in stores in early 2023. Kipster already sells the meat from male layer chicks in Europe.
Support from animal rights groups
The move to end chick culls on its layer farms garnered support from two animal rights organizations: the ASPCA and Compassion in World Farming.
Nancy Roulston, senior director of corporate policy and Animal Science, ASPCA, said: "The conventional egg industry has justified everything from immobilizing hens in cages to destroying millions of newborn chicks as the cost of doing business. Kipster's welfare-centered approach to egg production shows that suffering is not an inevitability when businesses marry compassion with innovation. The ASPCA hopes that food companies recognize the incredible opportunity Kipster offers to improve animal welfare in their supply chains."
Dr. Hillary Dalton, senior research manager, Compassion in World Farming, added: "Currently almost all male layer chicks in the United States are placed in a macerator immediately after hatching, where they are ground up and killed. Their painful and inhumane deaths represent an immense amount of unnecessary suffering and a waste of resources to incubate millions of eggs of unwanted male chicks. Compassion in World Farming USA believes both male roosters and laying hens deserve the opportunity to have full and enriched lives. We are thrilled to see Kipster's expansion into the United States and their pioneering efforts to eliminate the greatest welfare and waste problems in the U.S. laying hen industry."