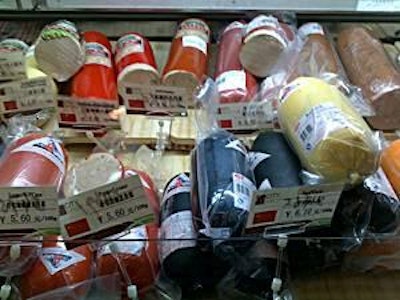 Mixing ground pork with spices, stuffing them into casings and smoking air-dried sausages in a cypress wood smokehouse -- Huang Minzhen knows each step of making sausages and longs to share this knowledge with her family.
But unfortunately, this is now a dying art.
"My father does not make sausages or preserved hams at home," Liu Yundan, 15-year-old granddaughter of Ms. Huang, told Poultry International. "Instead, we buy them from supermarkets."
Growing numbers of Chinese, especially urban residents, prefer to purchase processed meat products for convenience. "Actually, the last time I made sausages was fifteen years ago," said Ms. Huang.
As a result of rising demand on the domestic market, processed meat output in China soared by 345%, from 2 million tons in 2000 to 10.7 million tons in 2008, according to Beijing-based China Meat Association (CMA).
Among the various processed meat products, three in particular are most likely to enjoy rapid development, because of their higher returns, growing marketing to consumers and food safety concerns.
Low-temperature products
In the 1990s, high-temperature products such as canned pork were popular across China. Today, however, local producers are eager to replace high-temperature products with low-temperature products, in order to benefit from their higher profit margins and greater consumer acceptance.
For the second-largest Chinese processed meat manufacturer, Jiangsu's Yurun Food Group Limited, low-temperature products already play a leading role.
For the first six months of June 2009, sales revenue of low-temperature products reached HK$1,536 million (about US$198 million), accounting for 94.5% of the total revenue at its processed meat division, reports Yurun Food's.
Other companies that still rely on high-temperature products are trying to catch up. Henan-based Shineway Group is one of them.
Data from Shineway Group's 2008 annual statement shows that its output of low-temperature products reached 241,000 tons in 2008, an increase of 27.72% against 2007. However, for comparison, the company only produced 593,000 tons of high-temperature products at the same period, 8.2% down from prior year.
"The average gross profit margin of low-temperature products is 20 percent while the figure of high-temperature products is only 10-15%," Guo Huiyong, analyst at Beijing-based Orient Agribusiness Consultant, Ltd. explains.
Furthermore, for some large-scale companies, such as Yurun Food, the gross profit margin of low-temperature products has been up to 28.4%, while that of high-temperature products only reaches 20.5%.
In addition, increasing numbers of low-temperature products have been developed to respond to the rising demand for healthy and tasty food.
"Price used to be a key factor in Chinese purchasing decision," Chen Gang, analyst at Shanghai-based Sinolink Securities told Poultry International. "But now, with the help of rising income, richer Chinese are less sensitive to food price but pay more attention to its quality and taste."
As a result, low-temperature products that can keep maintain flavor are expected to satisfy Chinese diet preference for fresh taste, becoming the next driver in the domestic processed meat market, said analyst Chen.
To date, China's middle class are major consumers of domestic low-temperature products, and the retailer channel in first tier cities is the main distribution route for these products - 70% to supermarkets and 15% to convenience stores, according to analyst Guo.
Processed poultry products
China's meat producers used to focus on processed pork products, as pig meat is a favorite protein source for most Chinese. However, since most companies suffered from pork prices skyrocketing in 2007, increasingly meat producers are in favor of choosing poultry meat as an alternative.
Shineway Group, China's largest meat processing company, launched a $168 million project with its Japanese partner in April 2009, to provide 50 million birds to its own processed meat factories per year.
"This move can help Shineway Group reduce its reliance on pork and develop chicken products aimed at over 22 million Chinese Muslims and Southeastern residents who prefer poultry to pig meat," CMA's vice president, Deng Fujiang commented.
Beyond chicken, Shineway Group and other domestic manufacturers may add turkey meat, which is unfamiliar to most Chinese, into their purchase orders.
In November 2009, China's five top meat processing companies and US turkey producers discussed the possibility of developing processed turkey products in the Chinese market, according to Hu Jijun, manager at the Beijing office of the USA Poultry & Egg Export Council (USAPEEC) as well as this Sino-American Turkey Forum host.
Although high production costs currently block the development of processed turkey products in China, domestic companies still showed strong interests in these new products, said Mr. Hu.
Chicken is currently the second-most popular process meat, followed by domestically processed beef and lamb products, according to the CMA.
Branded products
Although increasing Chinese families cook hot dogs instead of spring rolls for breakfast, some people are still afraid of eating processed products due to food safety concerns. As a result, domestic meat producers are increasing efforts to improve their quality control and to build reliable reputations.
A survey conducted by Poultry International of 30 residents of Beijing, Shanghai, Chongqing and Xi'an revealed that food safety concerns are a major reason to keep customers away from processed products.
"I have never bought sausages from outside because I do not know what they are made from," said Wang Jia, a 28-year-old government employee who took part in the survey. "I think most friends of mine do not eat processed food for the same reason," she added.
Since June, Hong Kong-based DaChan Food (Asia) Limited, one of the biggest chicken suppliers in China, has provided a unique number to each product sold under its "Sister Kitchen" brand.
With the help of this number, customers can trace the whole production process – from feed mills to meat processing – via the Internet, and improving their communication with the company, said Han Jiahuan, DaChan Food's chairman.
Thanks to hard work at product promotion, leading meat producers already grab a large market share of China's processed product market. The data from CMA shows that top ten companies accounted for 82.73% of the total sausage sales and 56.95% of the whole sales of low-temperature product in 2007 – the latest statistics that are available.
China's processed meat industry 2006-2008
Year Companies Revenue
(Yuan billion )
2006 1,073 128.356
2007 1,175 160
2008 1,297 181.89
Source: China Meat Association.
The number of companies entering the processed market in China.