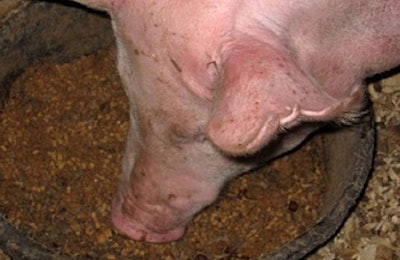 Breeding boars account for 50 percent of the genes in market pigs, but they don't receive a lot of attention when it comes to research. In this month's edition of Feed International, Ioannis Mavromichalis discusses why it's critical to properly balance complete feeds and prepare commercial products for breeding boars.
According to Mavromichalis, optimized feed can ensure sound development of boars' muscles and bone structure, high quality and quantity of sperm production, and longevity and well-being.
He offers four guidelines to be utilized to meet those goals:
NRC (2012) guidelines can be adjusted if needed with assistance from your genetics supplier to reflect actual genetics.

Keep in mind that breeding boars are mature animals, similar to gestating sows, when it comes to feed digestion. Ingredient upper limits used for gestating sows are more than adequate for boar formulas.

Daily feed intake should be based upon dietary energy content and estimated energy requirements.

Some additives and special nutrients, including organic selenium, vitamin E, zinc, biotin, vitamin C, betaine and chromium tripicolinate, may be added in complete feeds either as straight ingredients or part of a premix product.
Read more in "Nutrition guidelines for feeding breeding boars" in this month's edition of Feed International.