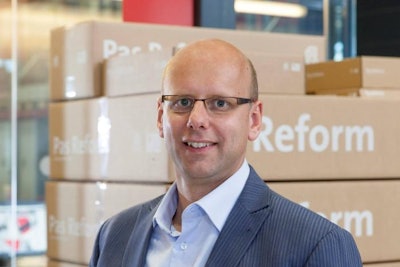 Leading hatchery technology company Pas Reform has appointed Sander Jansen to the position of service and sales manager, a key new role with responsibility for further expanding Pas Reform's international customer service capabilities.
As a pivotal function in the company's strategic plans, Sander (41) will optimise service and sales support processes. Building on Pas Reform's existing international reputation, his brief is to further strengthen the company's service capabilities by extending existing services and expanding Pas Reform's global services network. He will also lead the proactive development of new service concepts.
With more than 15 years' international experience in technical and commercial environments, Sander was business unit manager at ICT specialist company Axians and previously sales manager at MPS Meat Processing Systems, prior to joining Pas Reform. He studied Electrical Engineering and holds an MBA and an MSc in Control Systems Engineering.
"I am delighted to be joining Pas Reform", he says, "With a first-class reputation for customer service around the world, working closely and proactively with hatchery customers is fundamental to the Company's strategic plans for continuing international expansion.
"It is a privilege to have the opportunity to further develop the service delivery aspect of those relationships."
CEO Harm Langen concludes: "Exceptional customer service is the foundation of Pas Reform's international growth and reputation - and as we make the strategic transition from machine manufacturer to supplier of fully integrated hatchery solutions that demand for service excellence remains central to our promise to our customers.
"The creation of this new role reflects the importance of that promise - and Sander's considerable management experience together with his knowledge and experience in implementing and managing integrated service solutions is an excellent fit, both for our ambitions and for meeting those of our customers."