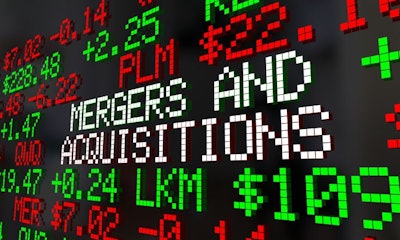 Find out about merger and acquisition activity in the poultry and animal feed industries in November 2021.
Freshgrass Holdings and Fane Valley Co-operative Society have reached an agreement to become 50/50 joint owners of Drummonds, subject to the approval of The Competition and Consumer Protection Commission.
HKScan and Scandinavian Aquasystems AB have signed a cooperation agreement for the sale of fish products under the Gårdsfisk brand and the production of meal components made from fish in Sweden.
NPM Capital will sell its stake in Hendrix Genetics to Paine Schwartz Partners, a global investment firm with a focus on the sustainable food chain.
ADM signed an agreement with Asia Sustainable Foods Platform to partner on the technology development and precision fermentation of microbial-based alternative proteins in Singapore and the wider Asia-Pacific region.
JBS has signed an agreement to acquire BioTech Foods, a Spanish cultivated protein company.
Pilgrim's U.K. is diversifying into the lamb business with the acquisition of Randall Parker Foods (RPF).
Skretting and Atlantic Sapphire ASA will build a specialized state-of-the-art feed plant for land-based salmon in Florida to serve Atlantic Sapphire's U.S. operations with market-leading feeds specialized for Bluehouse farming.
Private equity firm BGH Capital has agreed to purchase a majority stake in Australian poultry company Hazeldene's.
A new, combined Wayne Farms and Sanderson Farms will make a better company together than they were separately, according to the chosen leader of the new joint venture between Continental Grain Co. and Cargill.
De Heus Vietnam will acquire 100% of Masan Group's feed-related business, MNS Feed, pending regulatory approval, the company said.
MPE Partners announces the signing of a definitive agreement to sell Bettcher Industries to KKR.
JBS S.A. has received approval from the Federal Court of Australia to acquire 100% of Huon Aquaculture Group Ltd.'s shares, effective November 17.