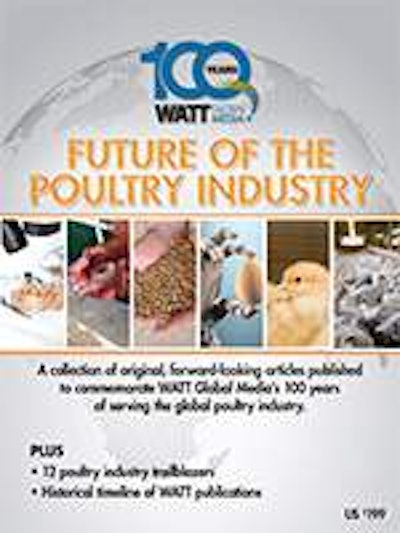 See what the future holds for the global poultry industry
Find out what is driving growth in protein markets
What are the factors that will change the face of poultry production?
WATT Global Media's editors created a series of original forward-looking industry-focused articles to commemorate 100 years serving global professionals in poultry production and processing. This is a collection of 13 in-depth articles, each exploring developments in key industry sectors that are making an impact on the future of the worldwide poultry industry. Also included is a bonus article on the influential people that have shaped the poultry industry.
Articles cover topics including:
Will no-antibiotics-ever poultry improve human health?
A glimpse into the future of modern poultry production
Sustainable poultry production driving industry advances
Future of poultry processing: Intelligent automation
Precision poultry nutrition shapes industry's future
Future of poultry welfare: What producers should expect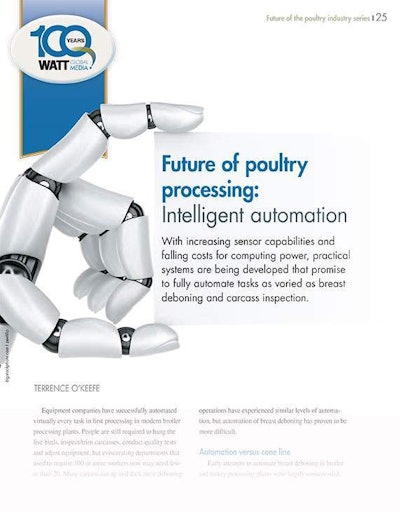 How will your business capitalize on the future opportunities?
This unique collection provides is a view into the future of the poultry industry as seen by WATT editors and other industry thought-leaders. This collection will give you insights into the science and business of the industry in the coming years. The printed booklet is one-of-a-kind keepsake for industry professionals.
Click here to preview articles
When you purchase a printed (paperback cover) Future of Poultry booklet for $199, you will also receive access to the online PDF version at no additional charge, OR purchase the online PDF booklet alone for $179.
Would you like to provide a unique gift for customers & prospects? We can create a custom cover co-branded with your company logo and include other company messaging for print or digital distribution. Contact Jeff Miller, jmiller@wattglobal.com, for more information on this special opportunity.
Spanish language "Future of the Poultry Industry" PDF available here
File Sharing Policy
Once purchased, Focus Series PDF files are for use by the purchaser only and sharing is strictly prohibited without the prior written consent of WATT Global Media.