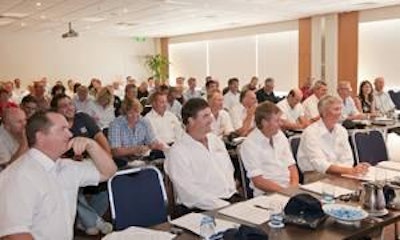 Aviagen Australia and New Zealand planned and hosted senior poultry executives from almost every company within the region at a two-day technical seminar, held in the Airport Hilton, Melbourne.
Over 60 attendees representing the industry attended the event, which focused on many aspects of production — flock health, biosecurity and vaccination, ventilation, egg handling, nutrition, managing with data, post hatch management, breeder uniformity, breeder and male diets, floor egg management — as well as an in-depth review of the company's genetic program and a performance update for the future from company International Product Manager Dominic Elfick.
In closing the seminar, Bill Souther, senior vice president of Aviagen Asia, noted the importance of serving customers in Australia and New Zealand with local representation and emphasized the strength and presence of both the regional team of support specialists and the local production of Aviagen products for customers in the region. "We also believe there is considerable value in being able to call someone in a similar time zone and receive an answer or response either the same day or within a 24-hour period," he said.