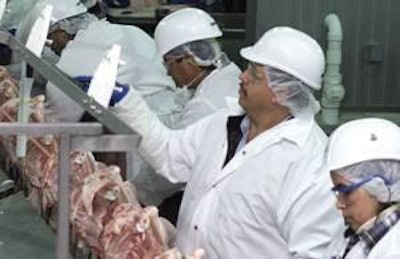 The U.S. Department of Agriculture's Food Safety and Inspection Service has posted a regulatory compliance guide focusing on FSIS best practices to help small poultry and meat producers and processors avoid salmonella and other pathogen contamination.
The document has been released in conjunction with an FSIS study that suggests "small" (between 10 and 500 employees) and "very small" (fewer than 10 employees or less than $2.5 million in annual sales) producers and processors are more likely to test positive for salmonella. According to the 2000–2008 study, all but one of the salmonella-positive samples taken were obtained from small or very small facilities.
The compliance guide provides directions and links to further information regarding processes, lethality requirements, stabilization and post-processing handling and sanitation.