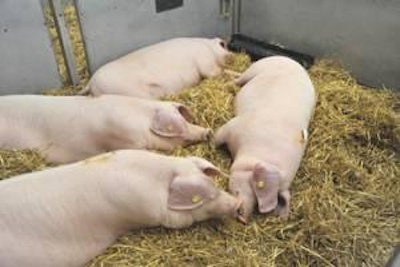 A new campaign has been launched to secure the future of the Welsh pig, a rare breed that is in danger of dying out unless urgent action is taken.
Originally, the fast-growing, easily managed commercial-type pig was one of the three major breeds on which the modern pig industry was built. But hybrid breeding programs, adopted by commercial breeding companies in the 1980s, led to a dramatic decline in Welsh pig registrations.
Anxious to preserve breed lines before they were lost forever, the Welsh government stepped in to lend support and the Pedigree Welsh Pig Society was formed in 2009. A British agricultural and environmental consultancy, ADAS, has now stepped in to help the PWPS promote and coordinate activities in an awareness campaign to highlight the merits of this breed, from both a breeding and a meat quality perspective. According to Helen Tongue, chairwoman of the PWPS, the Welsh pig has been put on the Rare Breeds Survival Trust 'Watch List' because it is low in numbers, but it still has considerable commercial potential for pig farmers because of its excellent mothering ability, its fast liveweight gain and ease of management, particularly important for the more extensive type systems. In addition, its carcass quality and heavier finishing weights makes it an excellent butchers' pig, she said.
"With the future focus on sustainable food production, we believe the Welsh pig has an important role in providing quality pork of known provenance to the more discerning customer," said David Moorhouse, a senior consultant at ADAS. "The priority with these projects is usually to save the rare breed and gene pool for future generations; however, with the Welsh breed we are focused on increasing awareness of its particularly valuable commercial attributes for today's market. These include excellent mothering ability and crossing potential with other breeds, as well as excellent grading across a range of weights to produce a quality carcass that has good lean content but sufficient backfat to retain a real pork flavor that will appeal to the more discerning customer keen to eat pork that tastes 'the way it used to'. In particular the breed tends to possess characteristics such as higher-than-usual levels of intra-muscular fat which helps to improve succulence and flavor."
According to Moorhouse, the ADAS is currently planning a program of events and activities designed to widen interest in the breed with the ultimate aim of expanding Welsh Pig Society membership and breeding more Welsh pigs.