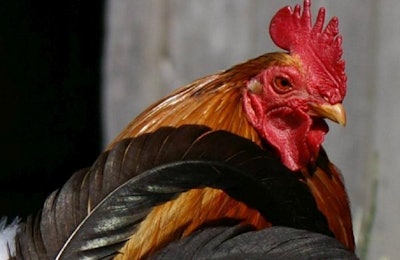 Avian influenza has returned to India, while additional cases of the virus have been reported in Taiwan, Vietnam and China.
Avian influenza in India
Following confirmation of an outbreak of avian influenza (AI) at a farm in Tripura state in India, more than 8,000 chickens and ducks have been culled, reports The Hindu. The farm, at Gandhigram in western Tripura state, is run by the government. Tripura is located in the far northeast of the country and borders Bangladesh.
"After the death of some chicken, ducks and birds we have sent samples to various local and outside laboratories," said animal resource development department (ARDD) director, Manoranjan Sarkar. "The National Institute of High Security Animal Disease Laboratory in Bhopal has confirmed the samples from the government farm are positive for H5 strain of avian influenza."
All poultry within a 1-kilometer radius of the affected farm were also scheduled for culling as a precaution to reduce the risk of spreading the infection. Sarkar added that surveillance will be carried out over a further radius up to 10 kilometers to monitor further spread.
Further avian flu outbreaks in Taiwan, Vietnam, China
In the last two weeks, the authorities in Taiwan has reported to the World Organisation for Animal Health (OIE) 7 new outbreaks of highly pathogenic avian influenza (HPAI) caused by the H5N2 variant of the virus. These included 6 poultry flocks and one wild thrush, resulting in the death or destruction of 32,310 birds.
A report from Focus Taiwan mentions the recent culling of 27,538 chickens after HPAI was confirmed at another farm in Chianghua County. The same report says the AI virus has been detected in four wild birds so far this year.
Five outbreaks of highly pathogenic avian influenza caused by the H5N6 subtype of the virus have been reported to the OIE by the veterinary authority in Vietnam. Backyard flocks with a total of 6,600 birds were affected in 4 central and northern provinces.
A farm in Hunan province in China has been affected by the same virus variant, resulting in the loss of almost 1,300 black swans and peacocks at one farm.
Human avian influenza cases in China
The National Health and Family Planning Commission of China recently notified the World Health Organization (WHO) of 2 additional laboratory-confirmed cases of human infection with AI A (H5N6) virus. Both were men in Guangdong province who had visited live poultry markets. One patient is reported to have died.
According to Focus Taiwan, a Taiwanese businessman contracted AI virus A (H7N9) while visiting China and has passed away there. He too is reported to have visited a live poultry market.