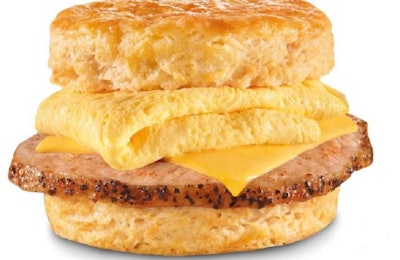 CKE Restaurants, the parent company of Hardee's and Carl's Jr., plans to phase out the use of gestation stalls in its pork supply and will transition to group housing by 2022.
The company announced the plans in its animal welfare statement, released on January 25.
CKE Restaurants further stated that all facilities that handle live animals must adhere to good animal husbandry practices and operate in accordance to directives from the USDA Food Safety and Inspection Service (FSIS). All pig farms supplying meat for the company must also provide an annual animal welfare audit performed by an auditor that is certified by the Professional Animal Auditing Certification Class Organization (PAACO), which promotes the humane treatment of animals.
The company revealed these plans in the same animal welfare announcement that included a transition to cage-free eggs. All Hardee's and Carl's Jr. restaurant locations will convert to serving eggs exclusively from cage-free operations by 2025.
Provisions for beef, dairy and poultry products were also included in the animal welfare statement, with all beef and poultry suppliers also being required to be audited by PAACO-certified auditors.
CKE Restaurants has more than 3,600 franchised or company-owned restaurant locations in 44 states and 36 foreign countries and U.S. territories.