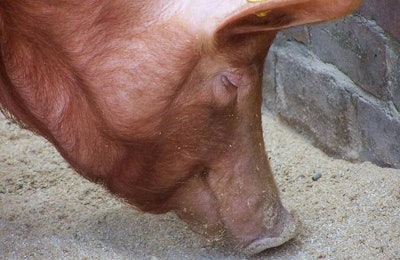 Avril Group of France, through its subsidiary, Abera, and German meat producer, Tönnies, are to set up a new joint venture involving pork processing.
With an investment of EUR5 million (US$5.5 million) and creating 60 jobs by the end of this year, the project will involve a new butchery and processing unit at Vire in the Calvados region. The new joint venture will be called "L'Atelier des viandes" (The Meat Workshop).
Meat for the new Abera plant will come from Porc Armor Evolution, a group of 700 producer-members in 15 departments. While Tönnies is already present in the French market through imports, all the meat processed through the new plant will come frompigs born, raised, slaughtered, cut and prepared in France – Avril's "5F" quality approach. For Abera, this new investment will consolidate its market position in slaughter and butchering.
Last year, Abera formed a partnership with Fleury Michon for the production of pigs without antibiotics.
"The creation of the new Workshop is a strong signal not only for Avril and its subsidiary, Abera, but also for the nation's pig industry and farmers," Fabrice Chapelle, general manager of Abera, told LSA-Conso. "Since 2013, France has imported more pork than it exports. While these imports come largely from Germany and are used for processed products, this workshop will combine the best of local production with German expertise to help French pig producers recover lost market share."
Last December, Tönnies Holding announced that it had acquired – as of October 1, 2015 - Danish slaughterhouse and meat processing company, Tican A/S, subject to regulatory approval. At the time, Tönnies explained that the acquisition was part of its growth strategy and international focus. Formal consent by Tican's cooperative owners was expected at an extraordinary general meeting on December 30.
A diversified company with businesses in the animal feed, human foods and renewables sectors, Avril Group is the second largest egg producer in Europe with an estimated 10 million birds, according to the WATTAgNetTop Poultry Companies Database.