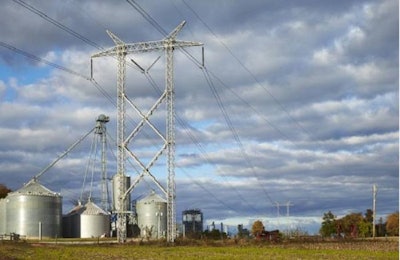 Duke Energy, a sustainable electric and gas company that serves 7.3 million customers in the midwestern and southeastern United States, plans to purchase swine and poultry waste output from a facility planned for North Carolina – using the captured methane gas to generate renewable electricity at four power stations.
Carbon Cycle Energy will build and own the facility, which is to be located in eastern North Carolina, although the exact location of the facility has not yet been announced.
"It is encouraging to see the technological advances that allow waste-to-energy projects in North Carolina to be done in an environmentally responsible and cost-effective manner for our customers," said David Fountain, Duke Energy president -North Carolina.
Under North Carolina's Renewable Energy Portfolio Standard (REPS), Duke Energy companies must meet specific compliance targets for swine and poultry waste. Duke Energy is already buying electricity generated from other facilities in the state.
"We are pleased to partner with Carbon Cycle Energy to help meet our compliance objectives," added Fountain. "The gas from this project will generate carbon neutral electricity compared to the emissions that would result if the waste was left to decay naturally."
Expanding the utility's renewable energy output, the captured methane will be treated, injected into the pipeline system and used at these four Duke Energy plants in North Carolina:
Buck Steam Station in Rowan County
Dan River Steam Station in Rockingham County
H.F. Lee Station Combined Cycle Plant in Wayne County
Sutton Combined Cycle Plant in New Hanover County
"We are pleased Duke Energy is supportive of our facility in North Carolina," said James Powell, CEO of Carbon Cycle Energy. "We still have additional work to do with licensing, local regulations and completing our organic waste supply chain. But having a confirmed buyer like Duke Energy is a major step."
Under a 15-year term, Carbon Cycle Energy is expected to produce more than 1 million MMBtus of pipeline-quality captured methane a year. Duke Energy should yield about 125,000 megawatt-hours of renewable energy a year – enough to power about 10,000 homes for a year. The renewable energy credits (RECs) generated annually by the effort will help satisfy state mandates.
On March 18, Duke Energy filed with the North Carolina Utilities Commission (NCUC) registration statements and additional information related to the plants being designated as New Renewable Energy Facilities. Under the state's REPS requirements, this must be done for plants that will consume and generate new renewable energy.