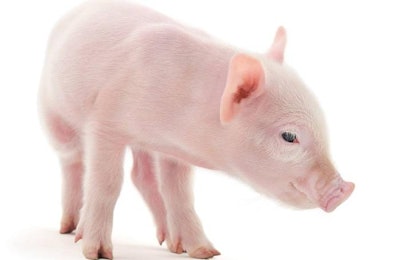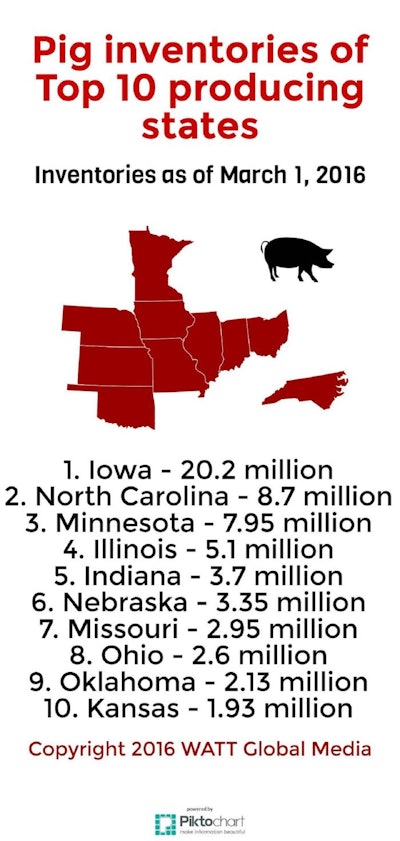 ---
The states of Iowa, North Carolina, Minnesota, Illinois, Indiana, Nebraska, Missouri, Ohio, Oklahoma and Kansas accounted for nearly 87 percent of all pigs in the U.S. inventory, according to the USDA Quarterly Hogs and Pigs report, released on March 25.
The report revealed the total inventory of U.S. pigs – including market hogs and breeding pigs -- in the U.S. on March 1.
Those top 10 pig producing states were also the top ten pig producers in the U.S. one year ago, with no changes in state ranking between the two years.
Iowa, which was by far the largest pig producer in March 2015 and March 2016, did see a small change in its inventory numbers, declining from 20.8 million head in 2015 to 20.2 head in 2016, a change of about 3 percent.
North Carolina, the second-largest pig producing state, saw its inventory increase 1 percent with the 2016 inventory at 8.7 million.
Of the top 10 states, No. 8 Ohio saw the biggest change year-over-year, increasing its inventory from 2.33 million head to 2.6 million head.
Rounding out the top 15 pig producing states, respectively, are South Dakota, Michigan, Pennsylvania, Texas and Colorado, the USDA reported. However, of those states, South Dakota was the only state to have an inventory that exceeds 1 million pigs.