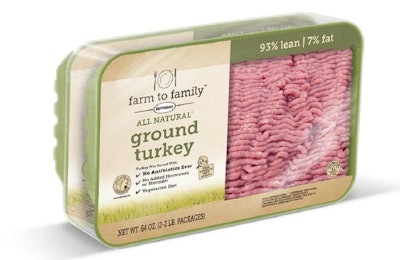 Butterball has unveiled a new product line known as Farm to Family, which is produced completely from turkeys raised with no antibiotics ever.
Farm to Family, according to a press release from the company, was created to meet today's consumer demand and to demonstrate Butterball's commitment to making delicious, nutritious and affordable food in a responsible way. Farm to Family products are American Humane Certified, made from turkeys which were raised on a vegetarian diet, based on whole grains containing no animal byproducts or hormones, without any antibiotics.
"We listened to our consumers. They like options and Farm to Family is another way we can reach their table. Raising turkeys responsibly is not just who we are, it's what we do," said Ivan Arrington, director of insights and innovation for Butterball, the largest turkey company in the United States. "We believe nutritious and all-natural turkey products should not compromise taste or price."
Expanding Butterball's offerings, the Farm to Family by Butterball product line includes:
All Natural Ground Turkey Breast
All Natural 93 percent lean/ 7 percent fat Ground Turkey
All Natural Turkey Burger Patties
Farm to Family products are now available in select markets and prices will vary by retailer.