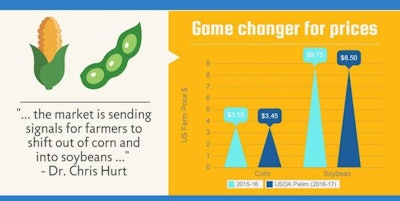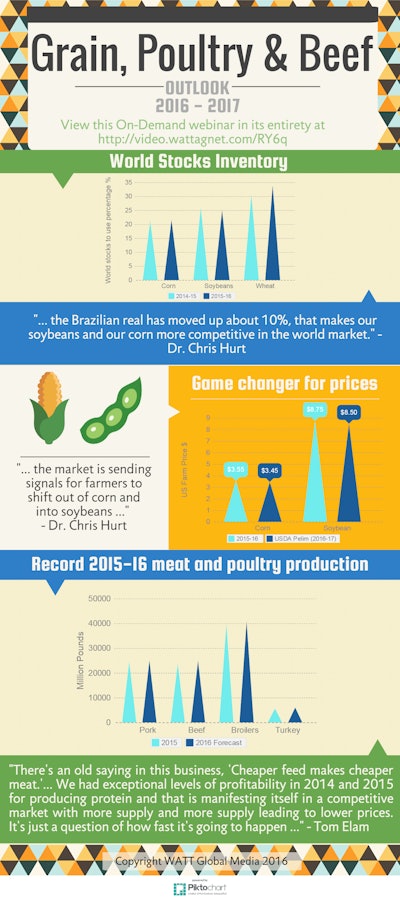 Originally broadcast on April 19, 2016, Dr. Chris Hurt, Purdue University, and Tom Elam, FarmEcon.com, presented an industry outlook on the supply and demand for poultry and red meats, expected planting acres for corn and soybeans, and pricing forecasts for these commodities.
According to Hurt the market is sending signal for farmers to shift to soybeans in regards to planting acreage. The acreage report shows a game changer in regards to prices. Hurt said he expects that the full 93.6 million acres will not be planted in corn and that some of this land will be used for soybeans instead. Hurt estimates that closer to 91.1 million acres will be planted in corn and that around 2 million more acres will be planted in soybeans than the planting intentions submitted by farmers, which was 82.2 million acres.
The presented data was taken from the USDA Prospective Plantings report and the World Agricultural Supply and Demand Estimates (WADE) report. This was the first webinar in the Poultry Grower Webinar Series for 2016.
Highlights from the "Grain forecast and poultry, beef price outlook for 2016-2017" webinar
Corn and wheat have abundant world stocks
2.5 million less corn acres and 2 million more beans
Pork growth slowing from rapid 2015 pace
Cheaper feed = cheaper meat
View this On-Demand webinar in its entirety at http://video.wattagnet.com/RY6q