Richard Kottmeyer, vice president of agriculture and food for Luxoft, gave his 10 bold predictions for what is to come in the poultry industry in 2016 and beyond at the Chicken Marketing Summit on July 11.
1. Antibiotic-free bites back
In the next five years, Kottmeyer predicts that one of the major poultry producers will get what he called "Chipotled." Referring to this, he said that due to the move to antibiotic-free poultry for much of the industry, more management is needed with more human oversight, requiring more steps in the production process. Therefore, there is a greater risk for human error at each step in the process which increases the likeliness of a food safety event. Kottmeyer predicts a food safety event will happen in the next five years to one of the major producers, which, as in the case of Chipotle, will reduce the brand's reputation for 18-36 months after the event.
According to Kottmeyer, the best way to avoid such a food safety event from happening is by standardizing what the contract poultry farmer looks like, giving them all the inputs and setting a standardized process for each farmer.
"What you want to do is take out variability and variation particularly given the nichification and move to go into cleaner labels," he said.
2. China encouraging less meat and eggs goes 'global'
Due to over-reliance on domestic production, the Chinese government is encouraging its citizens to consume less poultry meat and eggs, Kottmeyer said.
"China doesn't have a food security mentality; they have a food sovereignty mentality," said Kottmeyer.
So, the government asked, "What is the way in which I can dramatically reduce the footprint required for food sovereignty over food security?" Kottmeyer continued, "They've identified the lowest risk for social disorder is going to tie into protein consumption."
He said that he expects each Chinese province to be given strict rules tied to the amount of protein consumption that needs to be reduced. Although the impact of this ban won't broadly hit the U.S. immediately, he expects that it will quickly expand to other emerging middle class countries, ultimately driving down global poultry consumption.
3. Animal welfare replaces anti-GMO
According to Kottmeyer, consumers are increasingly accepting genetically modified foods due to more "mainstream" press admitting overwhelming evidence that this food is safe. However, humans will always have an emotional connection to animals, creating much more "stickiness" of advocacy concerns. In fact, he said the rapid growth in animal "feel good" will require poultry companies to change their marketing messages. Without new intelligence and listening technologies, the industry will not be able to properly keep up with and reply to consumers and animal advocacy groups over animal welfare questions/concerns.
4. Poultry and protein going through 'neutraceutical moment'
As in the case of neutraceuticals, consumers are losing interest in reading buzz words on packaging like "fresh" or "natural. Rather, consumers want to know where their food comes from and how it is made with terms that are straightforward and describe factual health benefits of the product.
5. It is a big firm world
Kottmeyer said that the poultry industry should expect more consolidation from major players around the world, but not necessarily from those that might be expected. Consumers want greater diversity and nichification from the major companies, not the small ones, he predicted. The key issue, according to Kottmeyer, is tied to how and why consumers buy poultry; privately held smaller firms will lack the transparency and closeness that millennials want.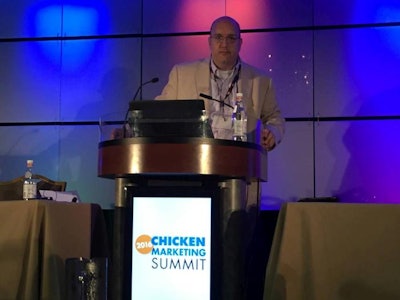 Richard Kottmeyer, vice president of agriculture and food for Luxoft, speaks to a crowd at the Chicken Marketing Summit on July 11. | Alyssa Conway
6. Increased attention to health will not lead to lower protein consumption in the U.S. versus the rest of the world
Outside of the "sensitive foodie culture," Kottmeyer said that although U.S. consumers are increasingly focused on their health, overall protein consumption is not expected to decline relative to consumption rates in other countries.
"It would literally take doctors jumping in as a single voice …. to create a sense that protein consumption in the U.S. has to dramatically fall off," he said. "We have confirmation bias. We simply want to believe that protein is good for us. That is not the case in Asia. That is not the case in Africa. The data doesn't support it."
7. Poultry will lack further gains from high-protein trends
The paleo diet and other trends that consumers are latching on to have put an increasing focus on protein consumption. However, since poultry is not viewed as a high-protein food, according to Kottmeyer, poultry meat is not expected to benefit from these trends. Instead, the data suggests the temporary lift in poultry consumption was tied more to protein substitution due to higher beef prices. Unlike poultry, Kottmeyer explained that consumers view beef as a high-protein food due to its width, texture and fullness.
8. Success of poultry in mid-term decided by 'disoriented' consumer
The American meat and poultry consumer falls into three categories relative to health, Kottmeyer said:
32 percent are "healthy aware" and found more in large cities and on the coasts
43 percent are "disoriented" and tend to live in middle America and towns under 2 million in population
25 percent are "not interested"
According to Kottmeyer, the success of the poultry market's share of growth will depend on its ability to move the "disoriented" consumer to either "healthy aware," if you're marketing high-value, organic, antibiotic-free meat, or "not interested."
9. 'Feeling good means healthiness' will spike poultry
Other health and consumer trends may emerge that can spike poultry's market share relative to other proteins, Kottmeyer explained. For example, he said that consumers, especially those over the age of 50, are increasingly judging a food's healthiness by how they feel after eating it.
"Consumption of red meat is less difficult of course in the United States than it would be on a global basis. So again, you have a wonderful opportunity to focus in on what the data is saying, and that is 'I will based healthiness based on how I feel after I eat a particular meal," he said.
10. Trend toward vegetable consumption lifts poultry consumption
A trend toward vegetable consumption is going to lift poultry consumption more than it will for other proteins, Kottmeyer projected. Poultry is an easier protein as a complement to a wider variety of vegetables. He said the industry should consider making a greater tie in to the healthiness of poultry meat with the healthiness of vegetables.
The Chicken Marketing Summit, presented by the National Chicken Council and WATT Global Media, was held July 10-12, 2016, at the Omni Hilton Head Oceanfront Resort in Hilton Head, South Carolina. The 2017 Chicken Marketing Summit will be hosted July 16-18, 2017, at the Historic Grove Park Inn in Asheville, North Carolina.