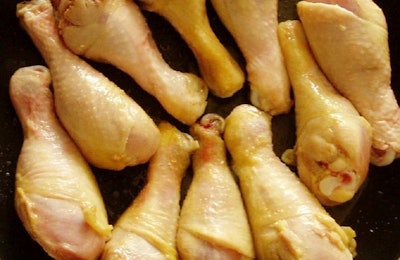 Keystone Foods posted net revenue of US$673 million in the second quarter of fiscal year 2016, a reduction of 3.6 percent when compared to the same quarter of fiscal year 2015.
The decrease in sales, according to a release from Keystone Foods' parent company, Marfrig, was mainly driven by lower meat and feed costs, which translated into lower sales prices, but that was partially offset by the continued strong growth in key account sales in the U.S.
Keystone Foods accounted for 50 percent of Marfrig's revenue during the second quarter. The company's Brazilian beef segment accounted for 37 percent of the total revenue, with the remaining 13 percent coming from the Brazil-based company's international beef segment. In addition, 79 percent of the company's sales for the quarter were linked to currencies other than the Brazilian real.
"The second-quarter results reflect the challenging scenario for the beef operation, where margins were adversely affected by lower international prices and, particularly in the Brazilian operation, higher cattle prices and the stronger Brazilian real, which was partially offset by the good performance at Keystone, supported by the positive commodity environment and the continued successful strategy of growing in Key Accounts and value added products," Marfrig stated.
Keystone Foods is the tenth largest broiler company in the United States. Headquartered in Huntsville, Alabama, the company processed 20.8 million pounds of ready to cook chicken on a weekly basis in 2015.